Babypalooza Bazaar Event Details
Good news for budget-friendly moms and dads!
The Babypalooza Bazaar is back! Babypalooza brings back sellers with pre-loved and brand new products and gear for babies, young kids and pregnant moms.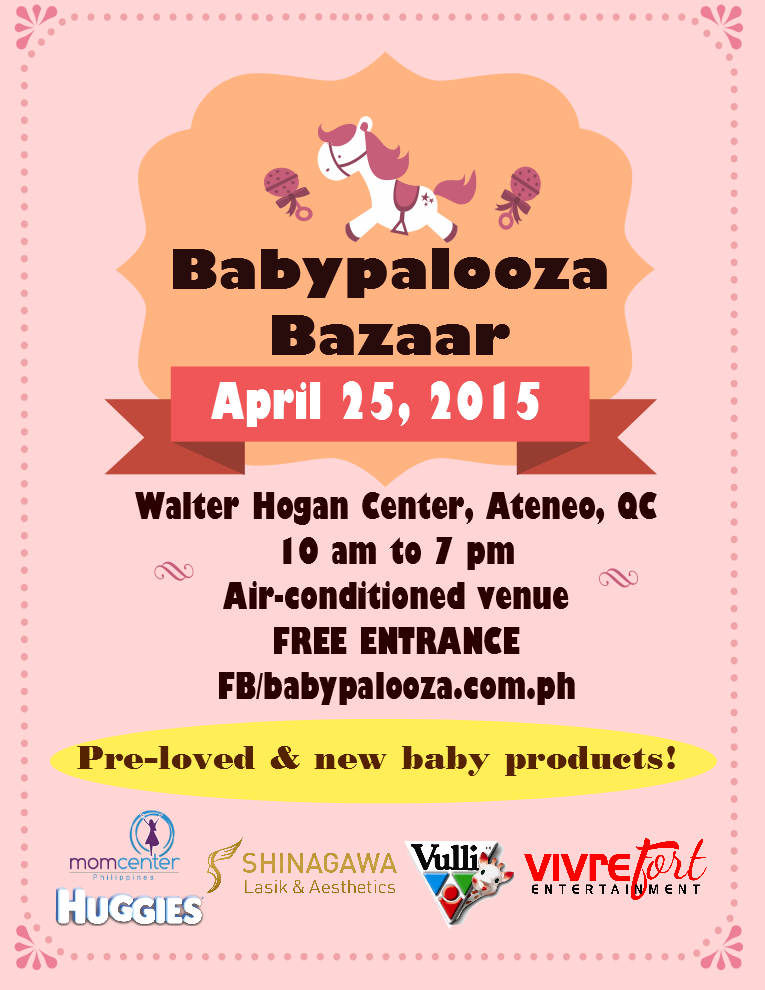 Shop comfortably in the event's air-conditioned selling hall. Bring your kids and let them hang out at the air-conditioned Babypalooza Family Room where they can hang out at the Vivre Fort play area. The Babypalooza Family Room will also have areas for breastfeeding, diaper changes and rest. Entrance to both our main selling hall and the Babypalooza Family Room are FREE for all visitors! While supplies last, visitors can also look forward to freebies upon registration such as Huggies diapers, Celesty Shinagawa products, Guard Insect Repellant and Lactacyd Toddler Tubs.
For a minimum total spend of P1,000, get a chance to win a prize from the Babypalooza Rewards Corner.
If you wanna pre-register you can use this link to do so: http://goo.gl/forms/dhfYd8E4Ld. Need directions? Use this link to see how to get to Babypalooza. For moms with momnesia, you can sign up for our Mommy Minder service. We'll send you a text message and/or an email a few days before the event to remind you of the event to make sure you don't miss it! 🙂
Follow the Babypalooza Bazaar on Facebook to join giveaways and see event updates, www.facebook.com/babypalooza.com.ph. For inquiries: 0917 609 14 72, 0917 814 8447 or [email protected]
Event Summary:
Babypalooza Bazaar
April 25, 2015
10 am to 7 pm
Walter Hogan Conference Center, Ateneo de Manila University, QC
Free entrance and parking
Links:
Pre-registration: http://goo.gl/forms/dhfYd8E4Ld
Mommy Minder: https://www.facebook.com/Babypalooza.com.ph/app_190322544333196
Directions to Babypalooza: https://www.facebook.com/notes/babypalooza-bazaar/directions-to-babypalooza/490277234419962
Win this amazing gift pack!