Last November 7, 10 mother-and-daughter teams chosen from hundreds of recipe-entry senders competed on the Healthier Rice Cooking Challenge held at Fisher Mall in Quezon City. This competition was part of the National Rice Awareness Month under Proclamation No. 524 and November 13 was set as the National Brown Rice Day and the tagline "Be Riceponsible! Spearheaded by the Department of Agriculture, the campaign was specifically focused on :
1. Encouraging the public not to waste rice
2. Inform the Filipinos of the benefits of eating brown rice as an alternative in our daily diets
3. Acknowledge and support our unsung heroes, the farmers, who continuously toil and labor to provide the country our much needed rice.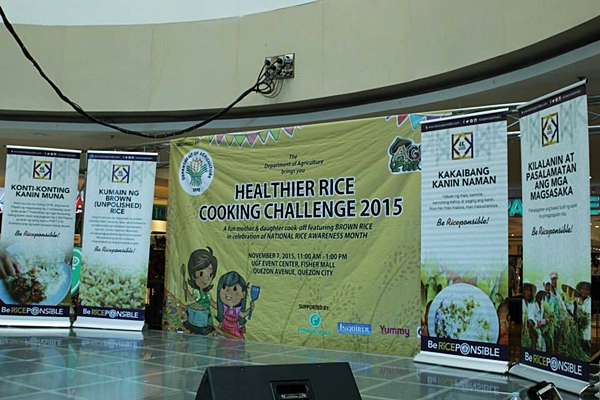 The Healthier Rice Cooking Challenge brought out the creativity and enhanced the bond and teamwork of the participating mommy and daughter tandems. We were so proud to witness as they gamely prepared, cooked and presented their finished products. All the entries were cooked deliciously and we were so amazed how ingenious these moms can be with the execution of their dishes. Scores were based on the taste, the nutritional content, how easy the recipe can be duplicated and presentation. Everyone were already winners but of course, we had to choose and rank them based on the scores they got.
The contest winners were mother and daughter tandem Ascila & Samantha Zulla from Rodriguez, Rizal with their Brown Rice and Mushroom Burger. They took home a trophy and a cash prize of Php 25,000.
Second placers were Claudette & Mikaela Quilantang of San Pedro, Laguna with their creation–Ogbos Kado Brown Rice Paella with Crispy Dumplings. They took home a trophy and a cash prize of Php 20,000.
Third place winners were Ma. Celeste & KC Romulado of Makati Cit with their Brown Rice Burrito with Monggo Bisque. They took home a trophy and a cash prize of Php 15,000.
Sarah & Ma. Eliza Arwen Hizon of Las Pinas City and their Brown Rice Halo-Halo Maki placed fourth. They took home a trophy and a cash prize of Php 10,000.
Rosalene C. Nepomuceno & Allen Joyce V. Culaba of Pasay City with their Brown Rice Moringa Roll ranked fifth. They took home a trophy and a cash prize of Php 5,000.
The tandems who ranked 6th-10th places took home Php 3,000.
This event was supported by the Philippine Daily Inquirer, Yummy Magazine and the Catholic Media Network.
To see the complete photos of the event, you can view them here.
We would like to congratulate Department of Agriculture for the success of the event and we wish that they continue to encourage the people especially the home makers to think of better ways to prepare healthy food for their families, which include using better alternatives such as brown rice. We are looking forward to the next activities for the Healthier Rice Campaign.