Last February 19, Repertory Philippines formally opened its newest offering "Almost Maine." Two mommies from MBP had the opportunity to watch this special night and here's what they had to say.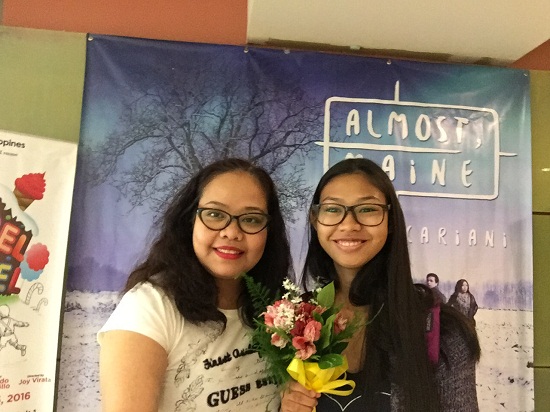 "Imagine a woman carrying her broken heart in a paper bag, A couple keeps their love in large red bags or compressed  to a size of a precious stone! A couple having trouble communicating wait for the shoe to drop. Set in mythical town called Almost. John Mariani`s Almost Maine is  Repertory Philippines second offering for the 2016 season.
Repertory Philippines` Almost Maine captures your imagination as well as your heart.  Director Bart Guingona, challenges the actors as well as the audience by casting 4 actors playing 19 characters on stage!
Almost Maine is a series of loosely connected stories about love, loneliness, enlightening sincere yet humorous vignette that gave me and my daughter Raffy the warm heart fluttering feeling. Joey Tibayan-Bayan, Dragon Chatter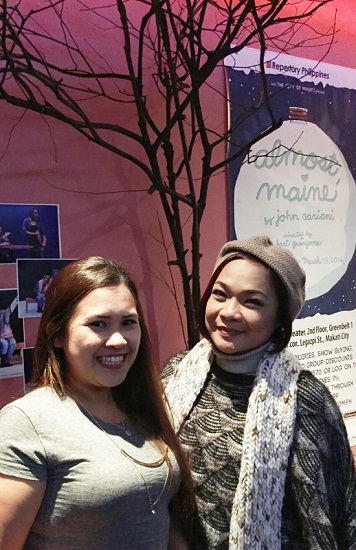 "4 actors. 9 acts. 18 characters. Almost, Maine is a story of love in every shade. Masterfully executed. Engaging. This is love at it's core." Celerhina Aubrey of celerhinaaubrey.com
"Shades of love… Wrapped in cuddles of heartwarming delight." Rooks Nudalo of cruisingcherokee.wordpress.com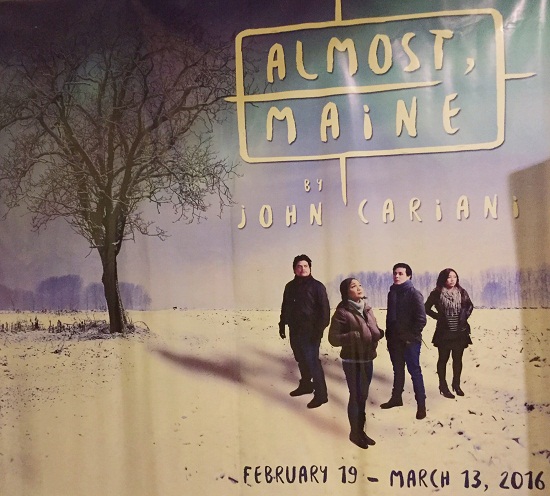 ALMOST, MAINE is a mythical place, owing no real geographic reference except to the human heart.
It is cold bleak landscapes, difficult to live in, and even harder to endure, but somehow the people that inhabit this place still manage to fill it with warmth, love, friendship and hope. It is their emotional journey that makes this place, located in the loneliest and most solitary corners of our hearts, still a place worth living.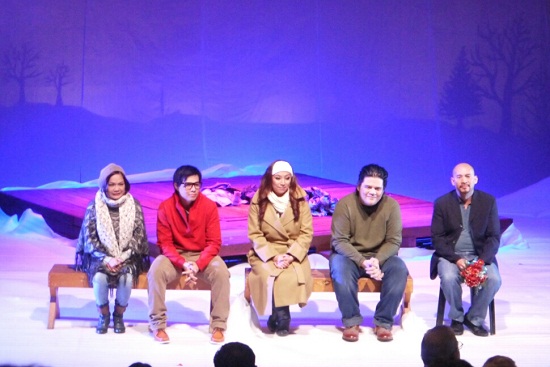 Written by John Cariani, ALMOST, MAINE is one of those endearing plays that captures your imagination almost immediately, and never let's go. With 19 characters played by a cast of only four people, it is most definitely an actor's piece. Two men and two women playing a host of complex characters is a daunting task indeed, and after several rounds of auditions and readings, the actors were finally found.
In the end, Reb Atadero (The Graduate, The Horse And His Boy) Caisa Borromeo (The Secret Garden, Kung Paano Ako Naging Leading Lady), Natalie Everett (The Secret Garden, The Game's Afoot) and Jamie Wilson (Run For Your Wife, The Bridges of Madison County) were chosen to take up the acting chores.
All veterans of Repertory Philippines, the excitement at being cast in ALMOST, MAINE quickly overshadowed the hard work that would soon follow.
In the director's chair, another Rep veteran takes the helm. Always an artist of incredible vision, Bart Guingona (4000 Miles, The Normal Heart) has never been one to do a play as it is written, and has put his own twists and turns on this wonderful material. With stage design by Baby Imperial and Coco Anne, lighting by John Batalla, sound design by Jethro Joaquin and costumes by Marta Lovina, ALMOST, MAINE promises to be a strong offering in Repertory Philippines' 2016 season.
Catch Repertory Philippines' Almost Maine from February 19 – March 13, 2016 at Onstage Theatre 2nd Floor, Greenbelt Mall 1, Paseo de Roxas St., Makati City. Details and schedules are available from their website at http://www.repertoryphilippines.ph/now-showing/.