Active Fun had definitely made last Easter a memorable and an exciting one for children. Because Easter is a time for celebration as Christians commemorate the resurrection of Jesus Christ, it is also a day for families and children. Through Active Fun's Easterrific Sunday, the kids were given an opportunity to have fun and interact with the kids through the program and Easter Egg Hunting.
See how fun the day went on!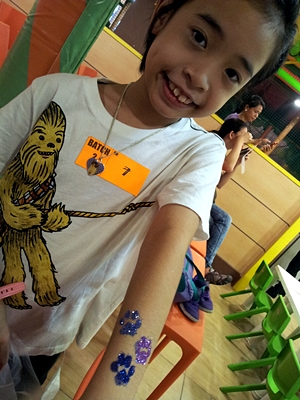 The kids had fun choosing their own glitter tattoos.
Easterrific Sunday Sponsors
URC- Jack n' Jill Puff Corn
URC- Jack n' Jill Cheese Curls
URC- Jack n' Jill Roller Coaster
URC- Jack n' Jill Fun O
URC- Jack n' Jill Choco Knots
URC- Jack n' Jill Mini Pretzels
URC- Jack n' Jill Pretzels
URC-Magic Flakes
Oishi- Breadpan
Oishi- Pillows
Oishi- O Puff Chocolate and Mango
Oishi- Wafu
Lucky Me! Special Baked Mac
Creamy Delight Yogurt
Delfi Foods- Goya Knick Knacks and X-Blast Chocolate Drink
Primomo
Hawk Bags
Astoria Greenbelt
Alveo Land
Hapee Toothpaste
Repertory Philippines
Disney Art Attack
Pepsi
One Mega Group
9th Avenue
Magnolia Jellyace
Mongol Crayons
ActiveFun
Is a world-class fully air-conditioned indoor interactive play & party center.
Is a themed multi-storey multi colored climbing frame with slides,tubes, ball pits, ball canons etc. all within a safe, secure, padded and netted environment.
Private Party areas are provided to celebrate their birthdays and other special occasions with their family and friends.
ACTIVEFUN is a tried and trusted brand that aims to promote a one-stop safe and kid-friendly recreational facility.  It also aims to promote exercise in a safe, fun environment and play as a venue to develop several skills of the children.
Parents are assured safety & consistent good service from our trained staff.
Active Fun Branches
ACTIVEFUN BONIFACIO HIGH ST .
9th ave cor 28th Street
Bonifacio Global City
Tel: 869-0800 / 8699509
ACTIVEFUN MEGAMALL
5th Floor Bldg D Mega Fashion Hall Megamall
631-5593 / 477-5889
ACTIVEFUN AYALA FAIRVIEW TERRACES
For schedules, admission rates, party inquiries, complete information is available on their website at http://activefun.ph . Follow ActiveFun in Facebook.