Christmas rush is in the corner and most of us moms will most certainly be on our feet, literally and figuratively speaking. As if taking different roles everyday is not enough, we also want to look presentable and stylish as effortless as we can. How we wish that there's a footwear that we can easily grab from our shoe cabinets, wear and then go even without thinking, right? Actually, there is.
RegettaCanoe is a kind of footwear that can live up to every moms' on-the-go lifestyles. If you are wondering where the name came from, "Re" means back/again, "Getta" is a traditional Japanese clog, and "Canoe" which is as we all know it is a kind of boat meant for daring sea-travelers. RegettaCanoe is a modernized Japanese traditional footwear which is sturdy, durable, long-wearing, and made-perfect to make walking smooth and comfortable. One look with each of the pairs of RegettaCanoe and you'll know that they are bound to be your perfect traveling companion for a long time.
We proved all these claims above as we joined The Regetta Canoe Food Walks just this month. In this event, we joined select on-the-go women and moms in an exciting guided tour around key destinations in Binondo while each of us wore a nice pair of Regetta Canoe sandals.
After the food tour, we were all impressed and convinced in the importance of having the proper footwear to be able to endure and accomplish the whole range of activities needed to be done. RegettaCanoe sandals made the tour seemed like a walk in the park despite the not-so-good weather and some of the unpaved roads we had to pass through. Our Regetta Canoe sandals lived up to its brand's promises of 5 Canoe Sole Comforts :
1. posture enhancement
2. impact absorption
3. blood circulation
4. heel and toe protection
5. certified animal-friendly construction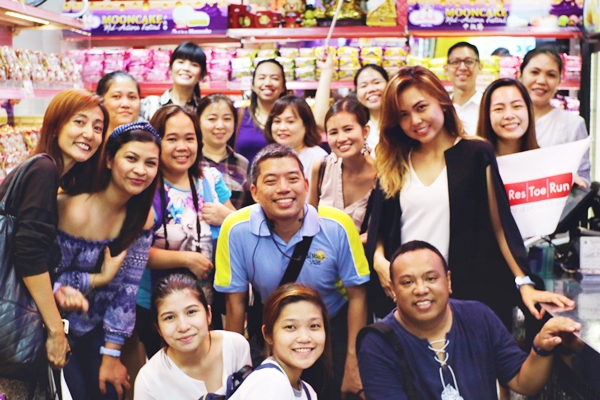 Regetta Canoe Food Walk participants include mommy bloggers and ladies from reputable newspapers and magazines : Lanie Lluch of Mommy Bloggers Philippines, and the wonderful ladies namely Grace Laurel, Jocelyn Morano, Rina Lorilla, Sheila Catilo, Megan Luna, Rhia Grana, Jing Gio, Tina Perez and Lorraine Rafols-Lorenzo.
RegettaCanoe sandals are available in colors that are elegant and classy. The designs are simple and not too-flashy, but pretty enough to be worn either with casual clothing or with more chic attires. The sandals can easily carry us through the day from the morning till night. Truly, Regetta Canoe is the walking sandal of choice for on-the-go women and moms!
Find Regetta Canoe at selected Res|Toe|Run stores and kiosks at the following locations : Trinoma, Glorietta, Robinsons Ermita, and Alabang Town Center.

Follow RegettaCanoe on Facebook and @regettacanoeph on IG #balancewalk #regettacanoeph