So, what is Argan Oil?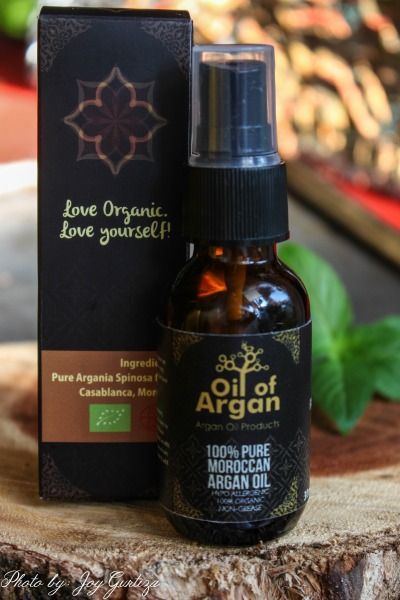 I've never heard of argan oil since the workshop.
I've never been very thankful to bring home one Oil of Argan bottle and a facial soap.
I'm a fan of FREE and I'm always brave to try (just as long as the product claims to be chemical free and all-natural).
I've tried a couple of oil based moisturizers but they never worked well on my skin and I ended with big , bad and red spots on some part of my face. So I switched back to my old trusted and tested aloe vera gel to do the work (it's all really natural where I pick the leaves, tear it open and rub the gel against my face at least 3 times a week).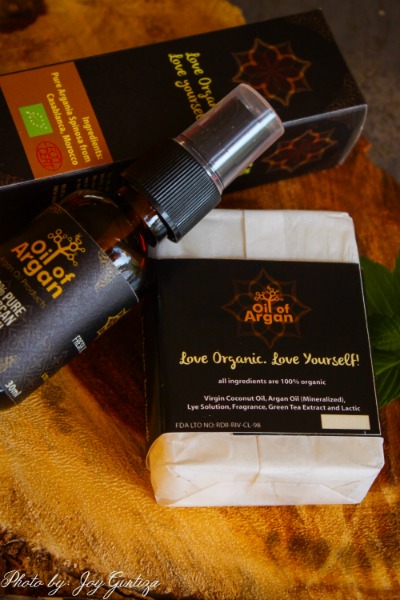 When I bring home the OIl of Argan at home, I tried it immediately and oh-yes, I was very surprised when I wake up and felt my skin feeling softer than usual and I can see how it looks visibly soft and clear in just one use.
Please take note that I wasn't paid to try this product. I'm talking from my own personal experience.
I basically fell in love from the first use and what do people do when they are in love? In my case, I investigate. I scoured the net to know about why it's so freaking good and I learned these:
From Wikipedia:
Argan oil is a plant oil produced from the kernels of the argan tree (Argania spinosa L.) that is endemic to Morocco. In Morocco, argan oil is used to dip bread in at breakfast or to drizzle on couscous or pasta.
(Ah, just like olive oil.)
From https://headtotoeshop.wordpress.com
The production of argan oil, which is still mostly done by traditional methods, is a lengthy process. Each nut has to be cracked open to remove the kernels, and it is said that producing one litre of oil takes 20 hours' work.
Internationally, there is now much interest in its cosmetic uses. Moroccan Oil uses Argan oil in their range of hair care products, and this brand has become a world leader in the specialized use of argan oil in hair care. Other manufacturers such as L'oreal Paris Kerastase use argan oil in their Elixir Ultime hair treatment.
There a handful of recommended use of Oil of Argan but I'll just highlight my 3 best favorite:
#1: Face Moisturizer
After washing your face at night, massage a few drops of argan oil directly onto your face and neck. It absorbs quickly and is not greasy. If you want to use it as a day moisturizer apply it at least 5 minutes then apply your power or your liquid foundation.
#2 Whole-Body Moisturizer
Once you see amazing ways that Oil of Argan benefits your face, do not hesitate to use it as your whole-body moisturizer! If you have dry patches on your heals, elbows or other areas, massage an extra drop into those areas for relief.
#3: Lip Conditioner
Oil of Argan benefits more than just your skin and hair; it makes for a wonderful lip treatment or chap stick substitute! Rub in 1-2 drops, and wipe away any excess.
This will not only heal any cracked lips, but also keep your lips soft, smooth and conditioned.
How to Store Oil of Argan?
So I've read, that you keep bottles out of direct sunlight, and sealed tight. It is recommended to use the oil within 6 months of opening for optimal benefit.
Where to Buy to Argan Oil?
Please take note …it is important to get actual high-quality oil.
A low-quality oil will not give you the same argan oil benefits as it will not have the same concentration of nutrients. You get what you pay for, so it is definitely worth it to be wary and read labels carefully. So when selecting your argan oil, look for pure 100% argan oil.
A good, pure argan oil will be more expensive, but when you look at the number of products (eye creams, moisturizers, lotions, hair styling products, etc.) you can replace, it is worth every penny. I personally recommend Oil of Argan and it's sold in:
G/F MARKET MARKET
Taguig, Metro Manila
Alabang Town Center
Festival Mall
Glorietta 3
Trinoma Mall
Robinsons Galleria
Robinsons Magnolia
Robinsons Ermita
Please check their website for more details: http://www.oilofarganph.com/ , Facebook page here.
Their partner store is SESOU NATURE SOURCE
Review written by:
Joy Gurtiza
Joybites.com
PROMO