Good food starts at home but world-class dishes are most usually learned in culinary schools. This year,  culinary students have the opportunity not only to LEARN industry skills, but also to CREATE significant changes to their careers, and then SHARE these culinary successes to the society.
Jolly University
Jolly University is not a physical university per se, but it's a learning program created by one of the leading brands in canned fruits and vegetables, JOLLY. It's actually in its second year and culinary students from various universities were given the chance to hone not only their skills in the kitchen but to also excel in different areas necessary for career advancements such as Leadership, Entrepreneurship, Digital Marketing and Personality Development.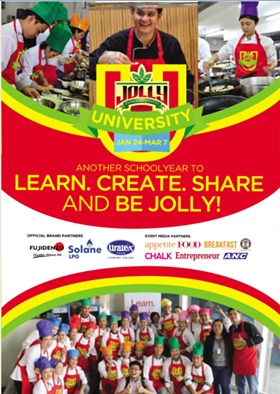 Jolly University was officially launched to the media last Thursday, February 26 with a lavish lunch buffet provided by Cafe Jeepney in Intercontinental Hotel Manila. Mommy Bloggers Philippines was witness to how JOLLY brand was focusing its effort to the development of the culinary state with the support of its owners and executives plus the  invited mentors and speakers.
Jolly University's learning program consisted of 3 parts where the first part,  the Jolly University school tours, started as early as January this year. 12 schools from all over the metro became part of this tour. An Intra-School Cooking Competition was held within each schools with a series of talks by JOLLY executives and culinary specialists. Three teams from each schools were chosen, the "Jolly University Elites" and they will all go through an intensive training at the next phase of the program, which will be the Jolly University Boot Camp. It will be a 2-day seminar meant mainly to mentor each of the participants by several industry leaders which will include Fly Ace Corporation President Jun Cochanco himself. All these will then culminate to the third part of Jolly University's program which will be the Jolly University Grand Culinary Challenge to be held on March 7, 1-5 pm at Midtown Atrium, Robinson's Place, Manila.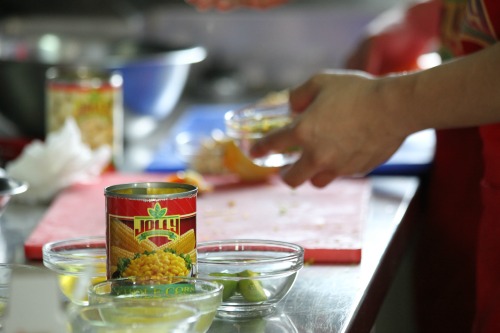 With its complete line of canned fruits and vegetables, the JOLLY brand had definitely improved our lives with healthier food served in many more ways. The JOLLY University program will certainly give our culinary students more skills and edge in the food industry. As they learn, create and share their latest food preparations, recipes and expertise in the restaurants they will be joining, we are certain that our families will have more exciting days in dining and our moms will be more inspired in trying out fresh recipes created by the newest culinary elites.