Have you planned your Christmas dishes yet? Noche Buena doesn't need to be extravagant and yet we moms definitely like to have a festive table for our families. So what do we do? We prepare dishes which imbibe happy thoughts or meals that aren't complicated and yet comforting for everyone in the family to eat.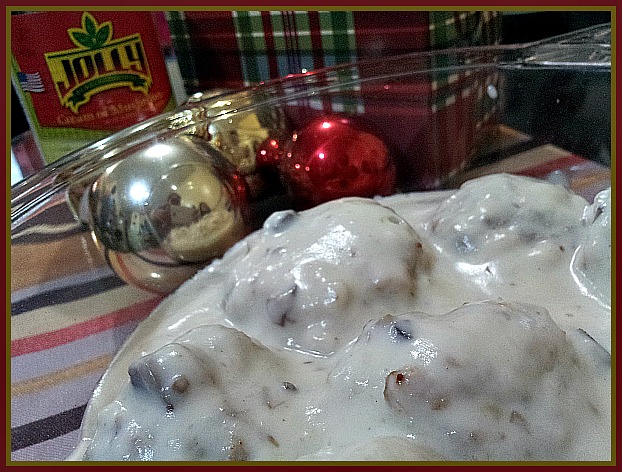 This recipe, "Meatballs with Jolly Cream Of Mushroom Gravy", is a simple, easy to prepare dish which is a little bit familiar to the kids and even to adults with the meatballs on it. This dish is made special with Jolly Cream of Mushroom which will give that delicious, gravy taste and it can be eaten with steamed vegetables as sidings, with a plate of rice, or a meal all by itself. Who doesn't like meatballs and whose kid doesn't like gravy? Indeed, this recipe is a Jolly recipe and it will surely be a hit on your table this coming holidays. #MakeItJolly #JollyChristmas
Meatballs With Jolly Cream Of Mushroom Gravy
Ingredients
1/4 ground lean pork
2 eggs
1/4 cup Jolly Fresh Milk
1/4 cup chopped onion
2 tablespoons flour
1/2 cup bread crumbs
salt and pepper to taste
Gravy
1 small can of Jolly Cream of Mushroom Soup
1/2 cup Jolly Cow Fresh Milk
1/4 cup water
Instructions
Mix together the meatball ingredients and form 2 inch meatballs. Put them in a baking dish.
Pour the mushroom soup into a pan. You can use the can to measure the milk and water.
Stir the soup until it is smooth.
Pour the gravy over the meatballs.
Cover the dish with aluminum foil and bake it at 350 degrees for one hour or depending on your oven. Check the meatballs if done before pulling out.
*If you don't have a baking oven, you can use a microwave. Instead of pouring the gravy to the meatballs, set aside the gravy first. Microwave the meatballs for 30 minutes in high and when the meatballs are done, top it over with the gravy sauce and microwave for an additional 15 minutes.
Perfect to serve with steamed vegetables (broccoli, asparagus, or kernel corn)
http://mommybloggersphilippines.com/2015/11/21/meatballs-jolly-cream-mushroom-gravy/
This recipe is solely owned by Mommy Bloggers Philippines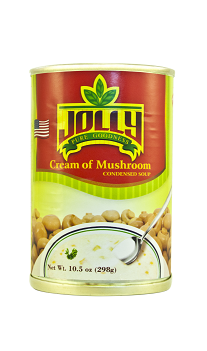 Jolly Cream of Mushroom Soup is a quality product of USA. It is made from carefully selected ingredients making ultimate culinary ingredient in making everyday simple dishes more creamy. It is high in protein, making it a good source of energy.
For more easy to prepare holiday dishes, visit Jolly Eats in Facebook and website Jolly.com.ph.