We all agree that motherhood is a tough job but despite all the struggles we encounter, we embrace our role lovingly. Why? Because as days pass by, and as we go along our routines, we all grow up, our kids, ourselves, the whole family in different senses. We overcome different kinds of crisis and we attain different kinds of achievements. All of these makeup our family's colorful journey in life.
This year, the Mommy Mundo community of fellow moms, mompreneurs and mommy experts celebrate The Motherhood Journey in their annual event, Expo Mom. With this year's theme, The Motherhood Journey, you'll find both enlightenment and encouragement whether you're an expectant mom or a new mom, a mom taking care of a toddler or a mom raising a child at Expo Mom.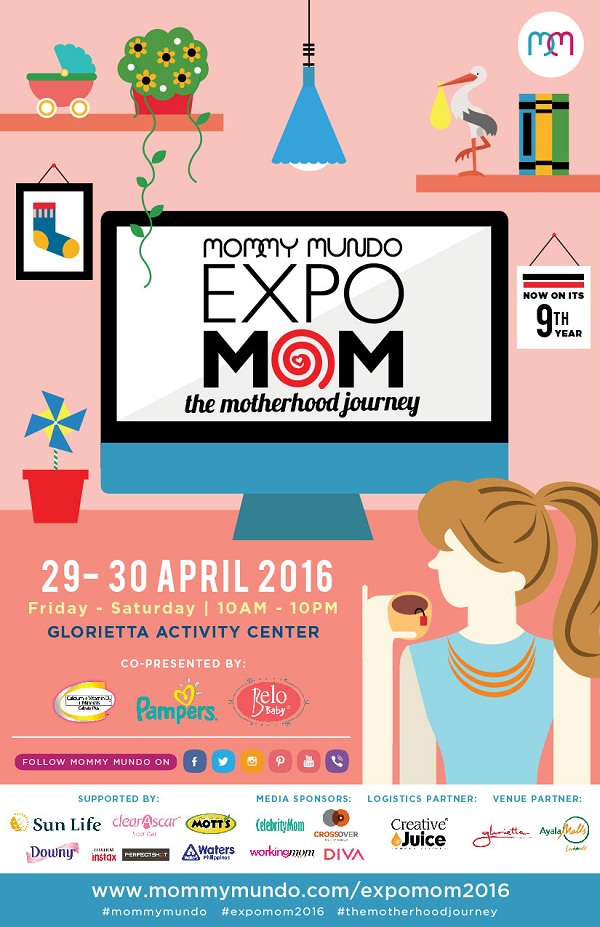 At Expo Mom 2016, moms will find answers and solutions to challenges and concerns of her
particular stage of motherhood as we feature mom groups and influencers who will share
their experiences and learning's during the onstage talks. Expert resource persons will also
be present to impart tips and tools that moms and dads can use to be better in their
parenting. Finally, Expo Mom 2016 will also showcase practical and effective products and
services for every stage of motherhood. The event hopes to be a sharing of stories, a
coming together of moms and dads who strive to be active in their babies and children's lives.
The Expo Mom: The Motherhood Journey Giveaway
Share your motherhood experiences online using #themotherhoodjourney hashtag and get a chance to win awesome prizes from Mommy Mundo!
Snug-a-hug pillow, Blanqi supportwear, and Mother-K gift box worth P8,950
Georgia Sleigh Cot worth P28,000
Aprica Stroller Luxuna Light worth P24,999.75
ETL Learning Book Set worth P49,915
Consolation prizes are also up for grabs!!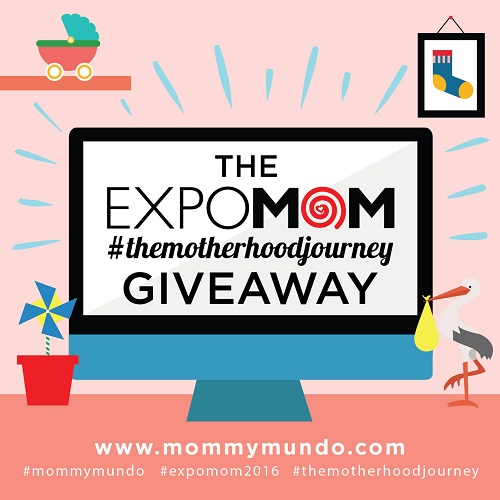 Contest Mechanics:
1. Follow Mommy Mundo on FB, Twitter, and IG
2. (1 pt)Share whate stage you are in your motherhood by reporting the (stage) icon
or using it as your profile picture. For all posts, use the appropriate hashtags as
follows:
a. Stork: #bellyblessedmama #themotherhoodjourney #expomom2016
#mommymundo
b. Carriage: #momwithababy #themotherhoodjourney #expomom2016
#mommymundo
c. Sock: #momwithatot #themotherhoodjourney #expomom2016
#mommymundo
d. Pinwheel: #lovemykid #themotherhoodjourney #expomom2016
#mommymundo
3. (1 pt) Share your motherhood story by posting a personal photo and telling about your motherhood journey. Tag @mommymundo and use these hashtags
#themotherhoodjourney #expomom2016 #mommymundo
Make sure to tag @mommymundo and @expomom and set your account to public
until April 30
4. (1 pt) Share the Expo Mom 2016 official poster and say that you are going to
@expomom
5. Posts may be on Facebook, twitter, or instagram
Expo Mom: The Motherhood Journey is co-presented by Caltrate Plus, Pampers, and Belo Baby and supported by Sun Life, Clearascar, Mott's 100% Apple Juice, Downy Baby Gentle, Fuji/Instax, Waters Philippines, and Stanley Ong Photography with Celebrity Mom, Working Mom, Diva Universal and Crossover as media sponsors, Glorietta and Ayala Malls as venue sponsor, and Creative Juice Communications as logistics partner.
Expo Mom is also the most mom and baby friendly event with a mom lounge for breastfeeding and diaper changing area sponsored by Pampers and a play area for kids sponsored by Mott's 100% Apple Juice. Entrance at Expo Mom is free of charge but a donation of any amount will be accepted for the Mommy Mundo MOMSHARE fund.
Proceeds of the fund goes to literacy projects for the street children of Childhope Asia and public School kids under the Alpabasa programs. MomShare also supports needs of underprivileged moms and kids. Mommy Mundo Passport holders get an Expo Mom tote bag.
Expo Mom, running since 2008, is the banner event of Mommy Mundo, an organization
dedicated to educating, inspiring, and empowering moms with useful, relevant, and up-todate information.
For more information, visit www.mommymundo.com/expomom2016