Everyone went mad with all the fun they had at the Mommy Bloggers Philippines Mad Hatter Party! Held at The Mind Museum in Bonifacio Global City, Taguig, the kids were dressed to impress and scare.
Every year we aim to give the mommies and their families a Halloween to remember. This year we collaborated with The Mind Museum, a world class science museum in the Philippines to hold our event. Mommies were given all day passes + Science Circus tickets to enjoy with their families. The Science Circus is the latest exhibit to come to town showcasing the amusing, the peculiar, and the extraordinary in our everyday experiences, in the form of interactive exhibits that deceive the senses and boggle the mind.
We were all in a festive mood especially with such a nicely decorated venue. Okasyon Filipinas provided our themed décor of a balloon arch and giant flowers just like in Alice in Wonderland. They can customize to your theme and also offer other packages and services such as candy and dessert buffets.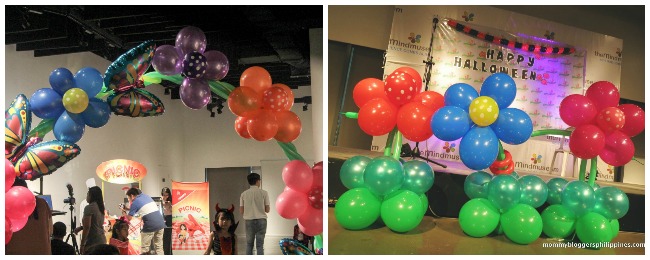 We were treated to Mekeni Picnic Hotdogs on sticks. Mekeni is premium brand offering various meat products such as ham, bacon, corned beef and Ethnic cured meat products like tocino, longanisa and tapa. Mekeni Picnic Hotdogs are juicy and tasty!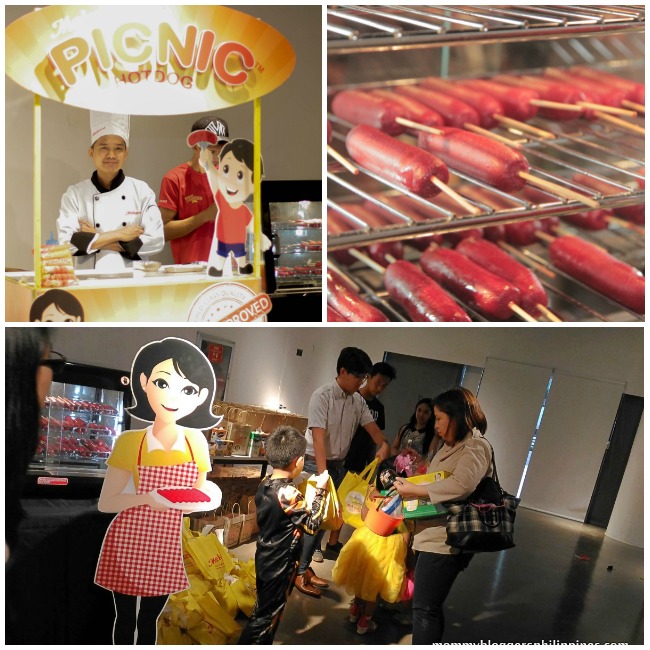 We had our usual costume parade and had over 50 kids in costumes. Since our theme was Mad Hatter we asked the kids and mommies to come in their best and most creative hats.
The winners of the Costume Contests were:
Best Costume: Boy: Reiniel Deveza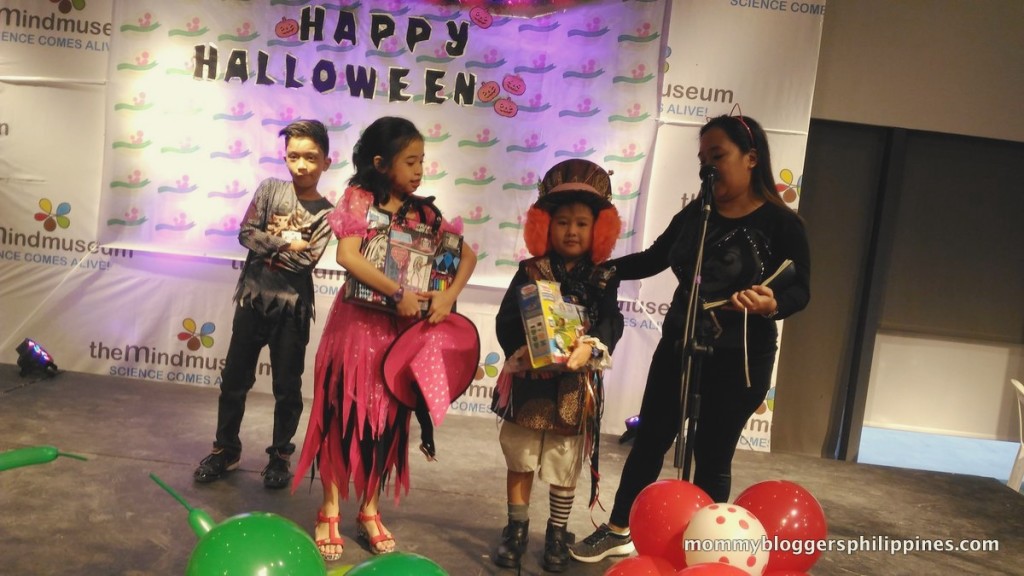 Best Costume: Girl: Lily Gurtiza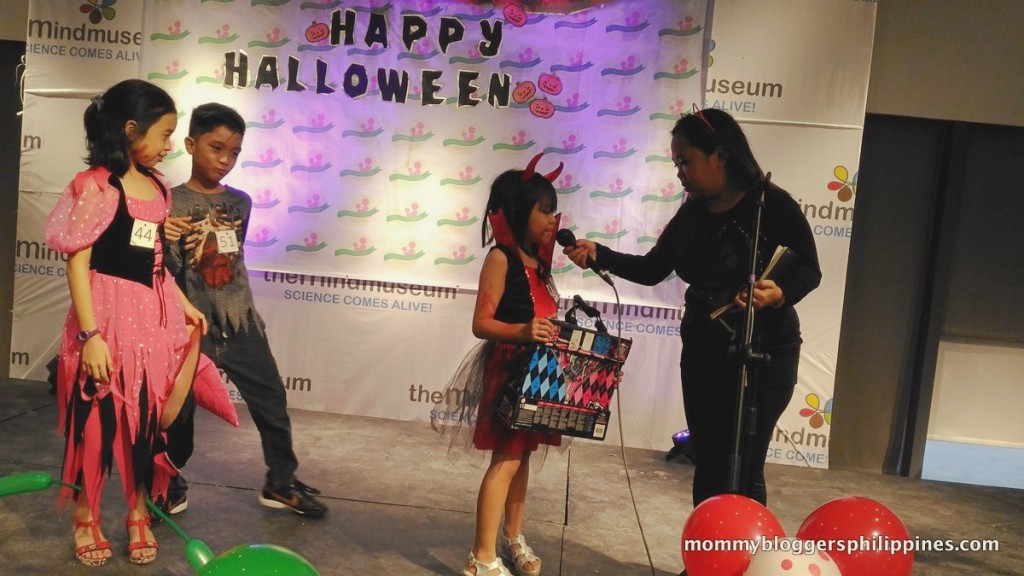 Best in Hat: Jayden Marcus David

The mommies were also treated to a raffle and items were sponsored from Tupperware and Richprime. Mommies Bave, Neri, Serene and Lariza were the lucky winners of the Tupperware sets.
Instagram Contest Winner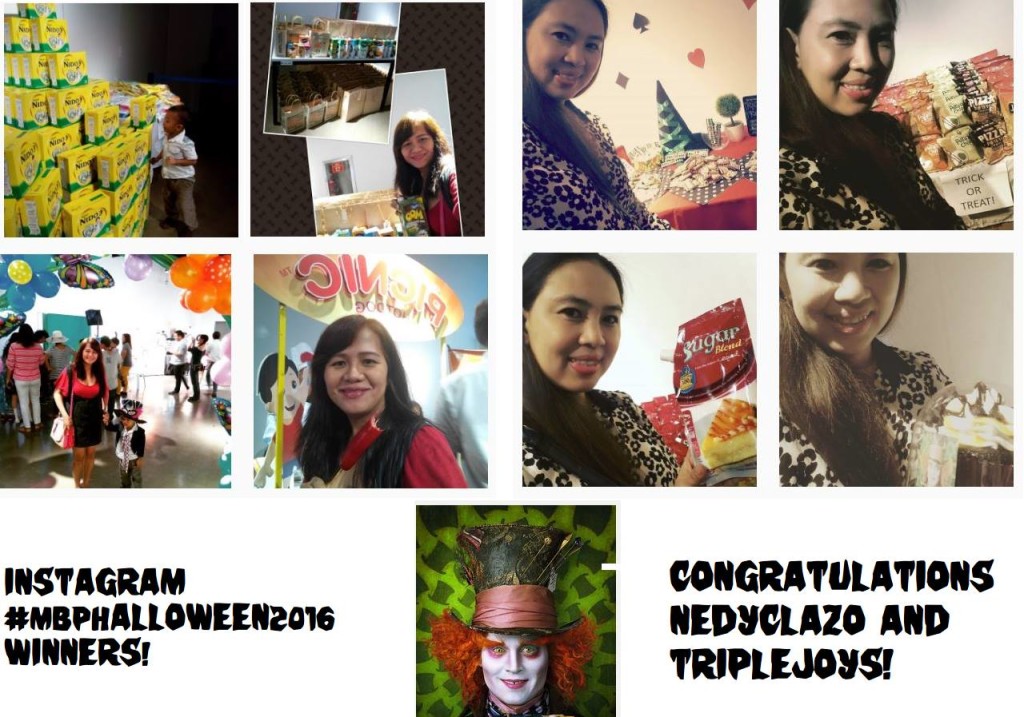 Mommy Josephine Bahala won a Monster High Set for her daughter while Mommy Nedy Lazo won a Hot Wheels set for her son.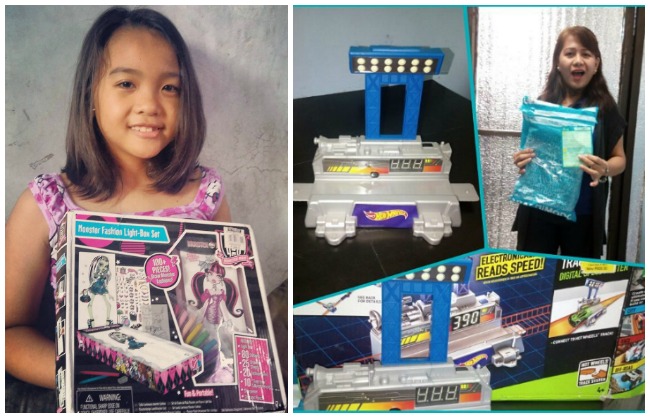 We were rich in treats and sweets with these very generous sponsors. Mommy recommended and approved!
Nido generously provided their growing up milk, Nido 3+ and lunchboxes and backpack hoodies.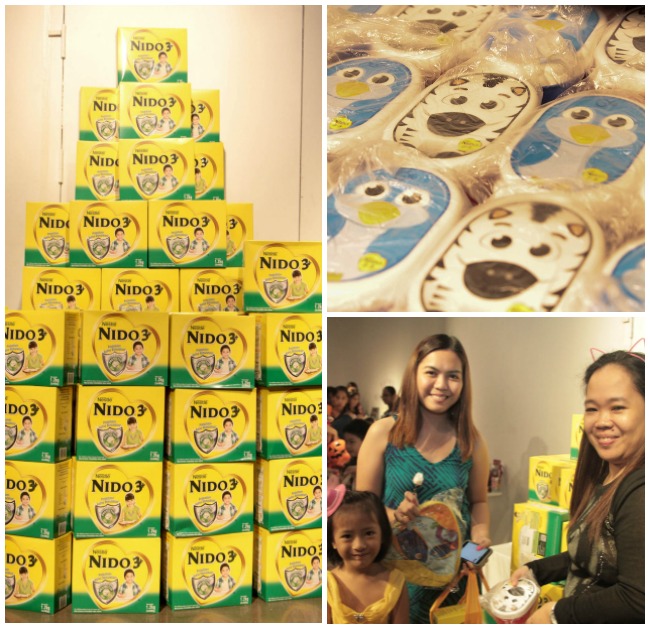 Selecta has a range of healthy drinks from Selecta Milk, Low Fat Milk, Full Cream Milk, Selecta Moo to Sunkist Orange Juice.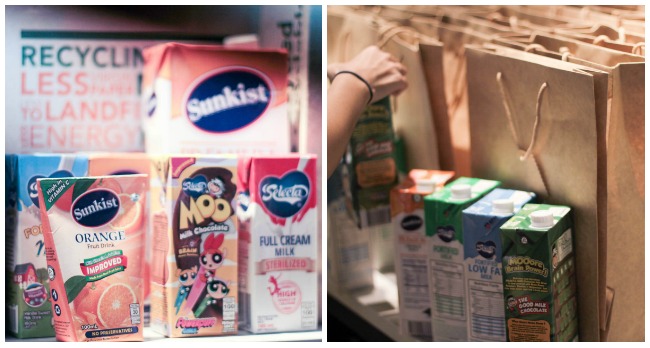 Stuffink provided these lovely Mommy Bloggers Philippines key chains while Lemon Square gave their Whattatops, Calbee gave their chips, Sugar Blend gave packs of their low-calorie sweetener for the trick or treat. Refreshing us for the day was Aqua Best who provided bottled water. We also had baby products from Tupperware which each mommy got to take home.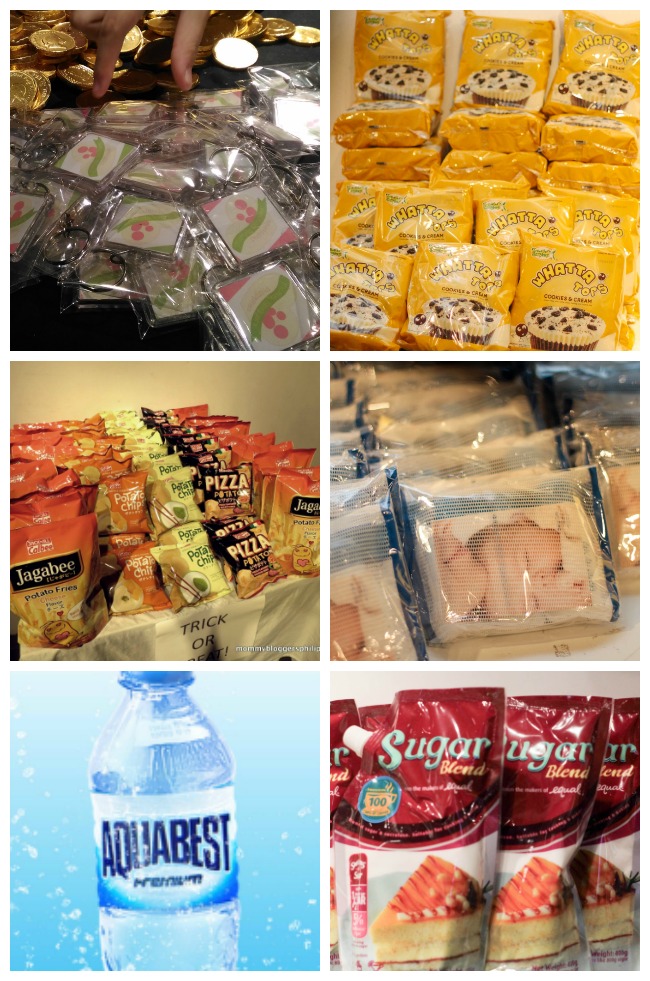 We were incredibly impressed with our sponsors who provided the various sweets. Here's a themed cake and cupcakes from Recipe Co.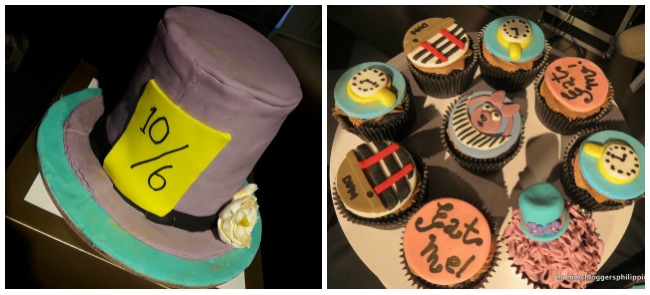 Sweet Art provided personalized chocolate bars. Many were fans of the Chocolate Mint bars.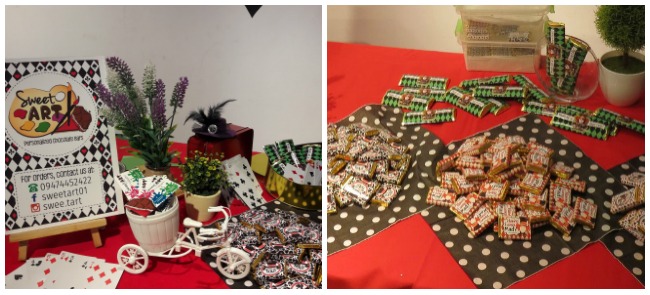 Our dessert table was courtesy of Glass of Sweets, a fun display of sweets and treats.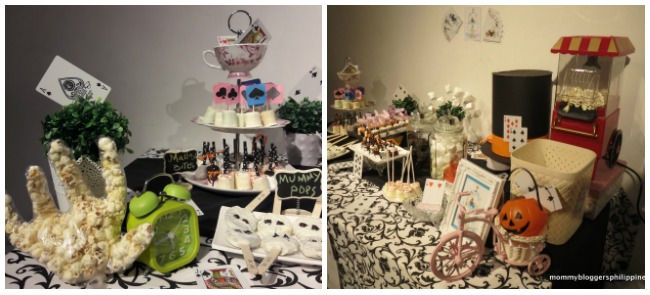 We had a lot of mommies compliment these creative cupcakes from Work of Love.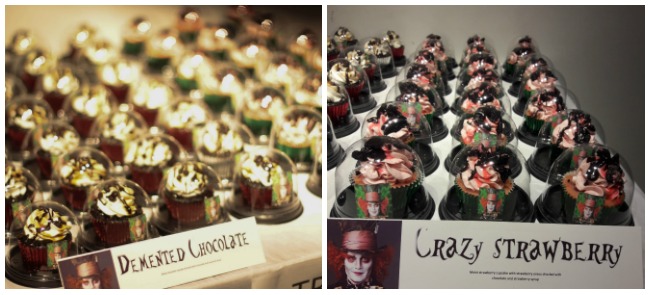 To memorialize the day and moments Peekabooth provided a fantastic photo booth with an excellent customized design. R Vercide Photography took pictures of the event as well.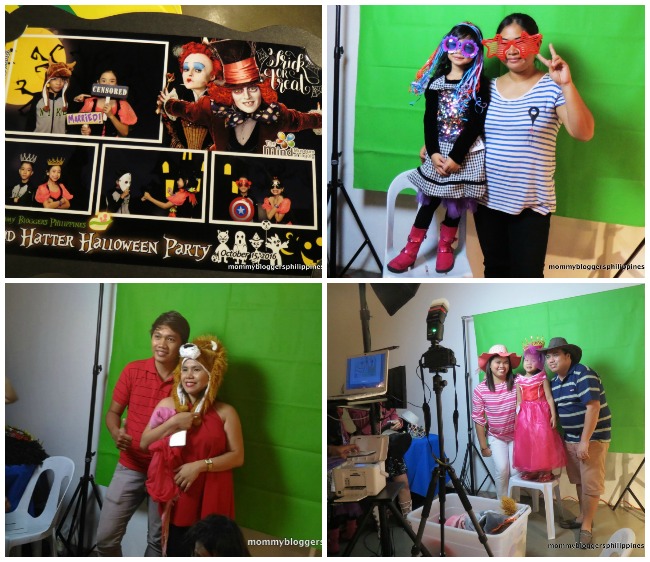 Mommy Bloggers Philippines Mad Hatter Party was made possible by generous sponsors and a team of mommies who love this blogging community.
Thank you for your generous support!
Find out more about our sponsors and follow their social media sites here:
The Mind Museum
https://www.themindmuseum.org/
https://www.facebook.com/themindmuseum/
https://www.instagram.com/themindmuseum/
https://twitter.com/themindmuseum
Mekeni Picnic Hotdog
http://www.mekeni.com/our-brands/picnic-products/
https://www.facebook.com/Mekeni-Picnic-Hotdog-1557893084527540/?fref=ts
Nido 3+ (1.2kg milk, Baon pals lunch boxes, Backpack Hoodies)
https://www.lakingamazing.ph/products
https://www.facebook.com/nido3.nidofortigrowPH/
https://twitter.com/nidofortigrowph
Richprime
http://www.richprime.net/brands
https://www.facebook.com/Monster.High.PH.Official/
https://www.facebook.com/makeitepicph/?fref=ts
Selecta
https://www.facebook.com/SelectaMilk/
https://www.facebook.com/SunkistJuicePH/
https://www.facebook.com/tetrapakphilippines/?fref=ts
Tupperware
http://www.tupperwarebrands.ph/
https://www.instagram.com/TupperwareBrandsph/
https://twitter.com/TupperBrandsph
Lemon Square
http://www.lemonsquare.com.ph/?s=whattaops
https://www.facebook.com/LemonSquareCupcakes/
Calbee
http://www.jacknjillcalbee.com/
https://www.facebook.com/JacknJillCalbee.PH/
Aquabest
http://www.aquabest.com.ph/
https://www.facebook.com/aquabestpurewater/
Okasyon Filipinas
https://www.facebook.com/okasyonfilipinas/
Stuffink
https://www.facebook.com/mareelaiza
Sugar Blend
https://www.facebook.com/EqualPhilippines/?fref=ts
Sweet Art
https://www.facebook.com/sweetart01/videos/1101976053243742/
https://www.facebook.com/sweetart01/
Glass of Sweets: Desserts and Treats (photos)
https://www.facebook.com/glassofsweets/
Recipe Co
https://www.facebook.com/Recipe-Co-1520078788275118/
Work of Love
https://www.facebook.com/workoflove1/?ref=br_rs&qsefr=1
Peekabooth
https://www.facebook.com/peekaboothservices/
R Verdice Photography
https://www.facebook.com/onevercide/?hc_ref=SEARCH&fref=nf
As written by Louisa Mercado of Art of Being a Mom