Our eyes are the busiest parts of our body and they had been the busiest more than ever. Aside from the fact that we can't go on our daily tasks without seeing what we do, we are surrounded by so many digital appliances, gadget and personal paraphernalia which require our eyes to work overtime. The point is, proper care of our eyes is very important as much as it is important that we care for every other part of our body. However, our eyes may need more attention, especially if our jobs require us to use our eyes more often and if our eyes are exposed to irritants more often than usual.
Unfortunately, our eyes are also exposed to so many kinds of eye irritants daily. Dirt and pollution while commuting to work or business areas can be harmful to the eyes. Even those who stay at home can be exposed to eye irritants. Dust and molds, smoke from smoking members of the family, steam emitted when cooking, and so much more.
Because of these, Eye Mo, the eye drop brand we all know for decades, want to help us Filipinos become more aware of the state of our eyes and educate us further about proper eye care.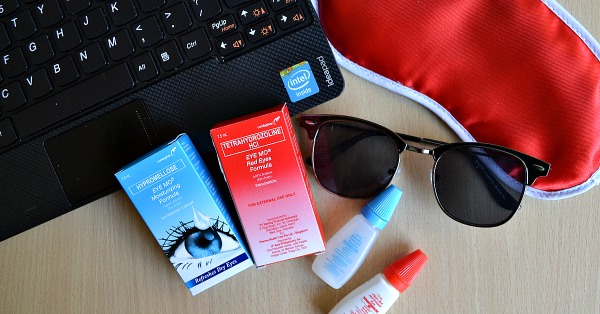 This week, Eye Mo held an event at Cafe Naya in Bonifacio Global City, which was attended by bloggers and media personalities. In this event, LF Asia Philippines, Inc., and Combiphar were introduced and the efforts these companies are doing for consumer health. Combiphar is a multinational healthcare company which owns and manufactures Eye Mo while LF Asia Philippines is the country distributor. Both of these companies were highly successful in providing premium healthcare products around the world.
As part of the vision of these two companies to improve the individual health of the Filipinos and the community, they launched the "Eyeritation" campaign with a new TVC soon coming out in main stream media. They also identified the 5 main signs of eye irritation:
5 Signs of Eye Irritations
Red Eyes – Caused by allergy, dirt, pollution, smoke or eye infections due to exposure. Motorcycle riders and commuters usually experience these signs of irritations.
Watery Eyes -When there's an excessive tearing when the person is not crying. The surface of the eyes might be inflamed or irritated. The inflammation might be a sign of an underlying health condition or caused by eye irritants.
Sore Eyes – Caused by too much staring at a computer screen or reading for too long.
Itchy Eyes – Often caused by allergies or exposure to dust and molds.
Dry Eyes – Caused by lack of tears or moisture. It happens when the eyes are exposed to gadgets, TV, laptops for too long in air-conditioned rooms.
When our eyes are irritated, we won't be able to see clearly, our actions are being limited and our eye conditions may get worse if they are not attended immediately.
"Eye Mo can be used to combat uncomfortable eye irritations. It comes in two variants, Eye Mo Red Eyes Formula and Eye Mo Moisturizing Formula. EyeMo Red Eyes Formula contains Tetrahydrozoline for quick relief of eye redness and minor discomforts caused by irritants. On the other hand, Eye Mo Moisturizing Formula contains Hypromellose which lubricates and soothes the eyes, easing it from eye strain and dryness." –  Earl Jayona, Marketing Manager; LF Asia Philippines, Inc., Healthcare Division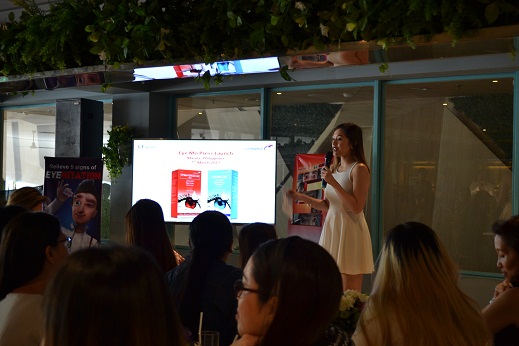 To apply Eye Mo, tilt your face upward, let one drop go to one of your eyes, and then close it for 3 seconds. Wipe excess liquid with a tissue. Repeat these steps on the other eye.
Eye Mo Moisturizing Formula (blue) can be used as often as necessary while Eye Mo Red Eyes Formula (red) can be used 3 to 4 times a day and if no improvements happen on the redness of your eyes, it's highly recommended to see an eye physician.
An opened bottle of Eye Mo should be consumed within 30 days. Please note that Eye Mo, as mentioned in the media launch, is not recommended for children 6 years old and below.
Glenda Arceno, General Manager of LF Asia Philippines, Inc. Healthcare Division rightfully said, " The eyes are the mirror of the soul", life becomes beautiful when we see the right perspectives. So take care of your eyes to see clearly where life is heading us."
Disclaimer: Product is advised to relieve symptoms of eye irritations. This blog pro­vides gen­eral infor­ma­tion and dis­cus­sion from media event.  The words and other con­tent pro­vided in this blog should not be con­strued as med­ical advice. For medical concerns, always consult your doctors.