Being pregnant is a wonderful thing. That feeling of excitement that after several more months of waiting, you will finally see your baby out of your womb, it is exhilarating. But carrying the baby in your womb, nurturing and taking care of yourself at the same time, can be more complicated than the waiting game itself. For some, if not most of us, pregnancy can be quite scary.
If you happen to be a soon-to-be first-time mom, that kind of fear can be doubled or tripled. If you are fortunate to have a supportive husband and relatives who are as excited as the both of you, all these people may be able to help you with the emotional, physical and even financial support you will need throughout the pregnancy. But what about the know-how or the medical information crucial for any soon-to-be first-time mothers?
For example, it's important for mothers to know about Optimal Birth Outcome. It is a stage, critical in the first two years of the baby, where the baby has the capacity to reach its full potential in terms of mental development, physical growth, emotional development and social interaction.The optimal growth and development of a child will depend if the mothers did well a few months before pregnancy.The Internet can be an overwhelming source for us mothers, may we be new or not, and the sheer amount of information can be confusing or even be misleading.
But we are lucky because Dr. Jesus C. Delgado Memorial Hospital or commonly known as Delgado Clinic in Kamuning, Quezon City will soon be launching its First Time Mom Unit, a hospital unit specially designed to assist soon-to-be first time moms. Part of the initial offering of this unit is a FREE seminar on Optimal Birth Outcome.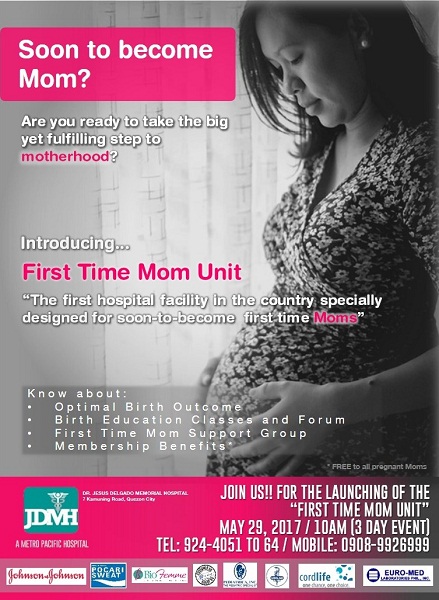 To avail the seminar, a mother or a soon-to-be mother just have to sign up as a member of the First Time Mom Unit. The membership also comes with a lot of perks:
Access to birth education classes
Prenatal and Postnatal classes for newborns and individual involved in the care.
Basic first-aid and CPR classes for moms and babies, couples and helpers.
Freebies from our Partnered Moms and Babies Brands
Free Ambulance Service (Child delivery cases only)
The First Time Mom Unit will officially launch this coming May 29, 2017, 10 AM. It will be a 3-day event all mothers should not miss. Take advantage of the free membership that the hospital is giving, the free seminars which you won't find anywhere else, and the freebies and prizes the organizers are preparing for the visitors.  For more details about the First Time Mom Unit, you may call 924-4051 or 0908-992-6999.
More about Dr. Jesus Delgado Memorial Hospital
http://www.jesusdelgadohospital.com/
Facebook
Instagram