Last June 30, 2017 we witnessed a partnership which will make life easier and more secured for us moms. It was the team-up of Sun Life of Canada (Philippines), Inc., and Mommy Mundo, Inc. to launch Sun Life's PA TXT Card, an easy-access card to Sun Life's personal accident insurance.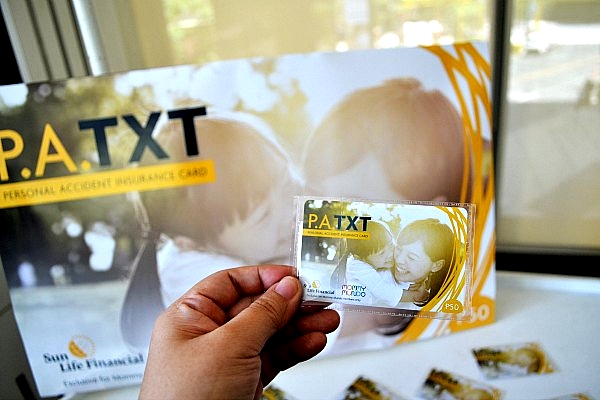 Mommy Mundo, a well-known community of moms advocating balanced family life, mompreneurship and breastfeeding through various activities such as bazaars and family events, has thousands of members subscribed yearly to its programs. Through the Mommy Mundo Passport and Journey Boxes which can be renewed yearly, mommy members get access, freebies, perks and first dibs to the events and season sales regularly held by Mommy Mundo and its partner brands.
Sun Life, a leading international insurance company, with its years of providing financial solutions and insurance, has tapped the most active niche in the community when it comes to seeking family security, the moms. Through Sun Life's PA TXT Card, Mommy Mundo members under the age of 65 can avail of Sun Life's personal accident insurance worth P50,000 for only P50.
The card was designed like a mobile phone load card which needs to be scratched to see the code. Full instructions about how to load and activate the insurance policy by texting the codes are completely written at the back of the card. Any mom will easily realize that this is the easiest way to be insured. There's no need to fill up complicated application forms and the price of the premium is very affordable.
The PA TXT Card is included in the Mommy Mundo Journey Boxes along with the Mommy Mundo Passport. The member can choose to enroll two cards to  get a total coverage of P100,000.
Responsible parenting requires us to think not only of the present but most especially the future. Having a personal accident insurance ensures that we will have something to back us up on times when we need it the most. We do appreciate Mommy Mundo and Sun Life's partnership in giving us this kind of insurance which is very timely and affordable.
Know more about Mommy Mundo's community here.
Read here about Sun Life and its diverse range of insurance, wealth and management solutions to individuals.