We've always loved the taste of Cerelac. It has been a household brand for decades and we are just happy that our little kids can still enjoy the flavors and texture of Cerelac up to these days. Recently, they've added another product in their line of delicious and nourishing solid food options for little ones and we just can't help but share it.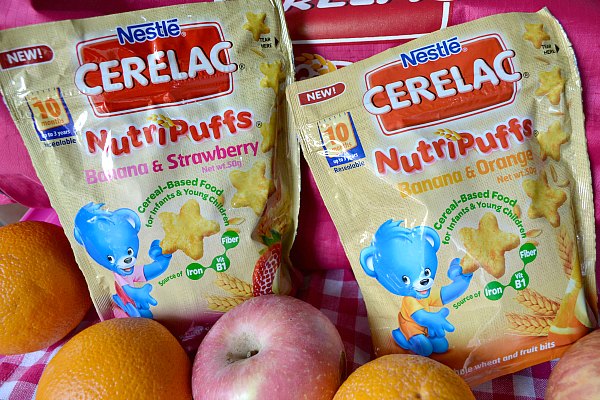 Cerelac Nutripuffs is a cereal-based snack suited for children 10 months onwards. It is made with whole wheat and fruit bits, and is a good source of iron, Vitamin B1 and Fiber. It comes in 2 delicious flavors – Banana & Strawberry and Banana & Orange.
What We Love In Cerelac Nutripuffs
Cerelac Nutripuffs comes in fun star shapes which little kids love. The cereals are neither too soft nor too crunchy and they are fun to bite and chew. They are also in just the right sizes for our child's little fingers. Because they are easy to pick up and eat, they are perfect for little kids who are just starting to explore and self-feed.
The fruit flavor combinations Nestle used are also recommendable. Bananas, strawberries and oranges are fruits that are easy to find and what we usually buy and let our kids eat. It's great that they will be familiar with these fruits at an early age.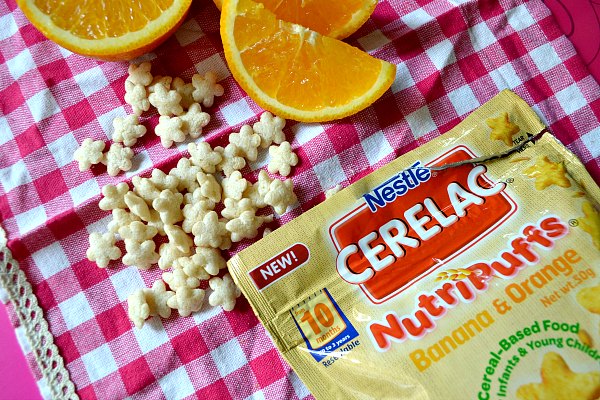 Cerelac Nutripuffs are not too sweet. (Yes, we've tasted it and liked them so much. Even our older kids wanted to eat them for snacks). You can still choose to add in milk and fresh fruits if you want to add more texture in the meal.
Cerelac Nutripuffs are contained in easy-to-tear packaging you can bring it along for your child's snack time wherever you need to be.
New Cerelac Nutripuffs is available in leading supermarkets and drugstores nationwide. You can also buy it online through www.lazada.com.ph/cerelac-official-store.
###
Cerelac Nutripuffs is a solid finger food food suitable for complementary feeding and is intended for children 10 months onwards. This product is not suitable as a breastmilk substitue. Infants six months onward should be given fresh, indigenous and natural foods, in combination with continued breastfeeding.