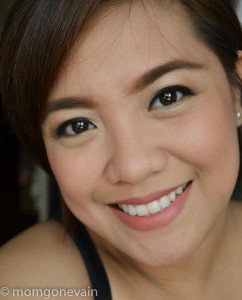 For the month of July, our featured blogger is a favorite amongst bloggers because of her uncanny expertise when it comes to make-up colors and styles. She has featured a hundred kind of lipsticks and blushes and eye colors and what's more lovable is that she often writes about affordable make-up. This is one mom who knows how to prettify herself without burning her purse. Let us know what's keeping her busy these days and her tips in blogging and enjoying one's self by taking care of ourselves, inside and outside.
How long have you been blogging and what initiated you to start?
–          I started my blog April of last year so I've been blogging for almost a year and a half now. Honestly, it was boredom and my love affair with makeup that initiated me to start blogging. I was slowly becoming a bored housewife until one day I decided I needed something else to do besides taking care of my daughter. Since I love make up and reading make up blogs, I thought why not try to make one of my own and the rest is history.
Who is the primary audience of your blog?
–          My blog's primary audiences are women mostly moms who are looking for product reviews, and make up tips & tricks. Those who are very much interested in make up.
What are the hindrances have you encountered in blogging and how did you manage or succeed over them?
–          Lack of time management is the primary problem I've encountered but I learned to adjust along the way. I don't force myself to write when I have a lot of things to do (I don't have a nanny). Before I thought I needed to post something at least every day and I get too stressed out if I couldn't. Now, I always keep in mind that I don't really have to be too strict and uptight in posting since I am doing this as a hobby. I just have to enjoy the whole process.
Tell us something about you and your family (e.g. your past and present career)
–          I was a high school English language teacher. I had to quit because I got pregnant out of wedlock and that's something unacceptable in a Catholic School. Now, I am full-time wife to a very supportive husband (he indulges my love affair with lipsticks) and a mom of a dance-a-holic little girl.
What are your current plans in your blog?
–          I plan to post more product reviews and hopefully more mommy experiences.
Was the community (MBP) able to help you in any way in your blog/personal life? How?
–          Yes. It has helped me very much because I learn so much from all the questions and tips. I love that it's a community where I can share my posts, experiences, rants and a whole lot more. I am also thankful because I got to meet moms who have the same interests.
What are your tips for our mommy bloggers out there?
–          I think just enjoy and have fun blogging. Share what you think will help other moms out there. Even if you think no one is reading your posts, just write anyway because you'll never know who you might be helping through your experiences and tips. Also just write about your passion and what makes you happy or angry or sad. It's your blog – your rules, your style.
There you have it. Our quick interview definitely shows that mommy Monika made way to find happiness through make-ups and blogging about them. Prices of make-ups may become steep but it's not an issue for her. With the right blush and the right shade, Monika can transform herself to a lovely goddess whenever she wants it. Who says you need to spend so much for vanity?
Catch Mommy Monika on her blog at www.lipsticksandmoe.blogspot.com and follow her Instagram photos at www.instagram.com/lipsticksandmoe.