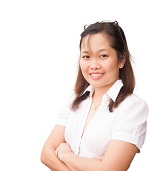 Our first featured mommy blogger for this year 2015 is none other than Mommy Joy Gurtiza of JoyGurtiza.com. Learn more about this beautiful mom of 4 (who looks like she doesn't have kids at all) and find out her current whereabouts, her inspirations and pieces of advice for everyone of us.
1. How long have you been a blogger?
2 years and 5 months.
2. What is your blog about?
I have 2 blogs: one is a food blog; and the other one is more of a self-reflection blog.
3. Why did you decide to blog?
Ung totoo? Because I want to show-off.
Well, first… I decided to blog to share my food photos. Then, after a year I thought to share something I think is more personal, deep and meaningful for me so I put up a self-titled blog to share my life views as an individual, and as a mother.
I'm a sucker for self-help books whether it's an e-book or a printed book. I'm deeply driven by how I can make myself a better person I thought that blogging is not just showing off where you eat, what you bought, where you go but also sharing your most deepest sentiments as a human being whether someone reads it or not.
4. Did blogging change your lifestyle and parenting views?
Absolutely yes!
I realized one important thing, as a food blogger, that not all food you have to serve at home must be nutritious. It can all be delicious but nutritious hell, no.
As mother of 4 young children an occasional hotdogs, longganisa, chicken nuggets and instant noodles should be part of their childhood meal. Though, I recommend we serve it moderately but I strongly believe that it should be part of our menu once-in-while.
5. Are you a full time blogger?
No. I have a lot of activities on the side. I sell cheesecake to my family and friends and soon I'll be opening it to our friends of friends. I work for a Canadian company, where I take the part of customizing support desk, setting up membership site and even troubleshooting on some API errors.
6. How do you manage your time effectively?
I don't follow a straightforward time management system. It's just like this, in the morning I work, before noon I do household chores and all the mommy brouhaha, then I take a nap. In the evening I reflect, I plan for the next day and I call it a day. Thought it might sounds simple, it's not easy, a lot is happening in between chores but I'm always happy because I get to squeeze in some of the things I like to do most of the times.
7. What can you advice about blogging and parenting?
Blogging must be taken seriously. It's not something that you set-up today and forget everything about it the following day only because you wanted to be called a "blogger". Your blog should be a representation of yourself. It should speak clearly of your passion, of your intention on how you want to live your life, not another soulless dot com in the world wide web. Like in parenting you don't want to be just that another parent. You want to be "that parent".
8. What are your future goals?
In 2003-2006 I put up and operated a small call center and an English school. Then I failed and closed it down. In 2007-2008 I had a food cart franchised business. It bury us in debt so I had to close yet another business endeavor.
In 2011 I wrote and published a book in Amazon (http://www.amazon.com/How-Find-Work—Home-Days/dp/1466336129/ref=sr_1_4?ie=UTF8&qid=1422761382&sr=8-4&keywords=7+days+work+at+home). It was a great experience and it started my online career.
I have been an entrepreneur and a published author. Today, I'm a blogger and a very good food photographer. I've learned so much from my ups and downs, from endless frustrations and heartaches. My goal going forward is to again become an entrepreneur, a successful entrepreneur . To write another book to be published and distributed in the Philippines that will touch the heart and minds of readers. To become a kick-ass blogger and a superstar food photographer.
For the past years I have been walking all alone pursuing what I thought I love to do, last year MBP welcomed me to be part of the team and changed my perspective. This year my goal is to create meaningful relationship with the MBP team, build a business together that's the primary purpose is to help and to share. That's the GOAL.
9. How did Mommy Bloggers Philippines helped you in any way?
If there's one thing that MBP helped me with was that I met tons of beautiful, talented, passionate and hard working mommies that are committed to helping and sharing everything they know to whoever wants to read and listen which truly enliven the MBP's core purpose of existence other than to connect mothers that shares the same passion and craft is to is to help and share.