A bowl of hot soup can bring comfort and calming effect when we are anxious during a storm. Everyone needs something soothing not only to the spirit but to the tummy as well. Here's a compilation of 5 recipes to help the moms prepare a warm treat before any meal or something which can be taken with any snack. This will certainly help everyone relax, recharge and warm-up even while waiting for a troublesome storm to pass by.
Egg Drop Soup – A quick soup which can be done using the most basic ingredients. (panlasangpinoy.com)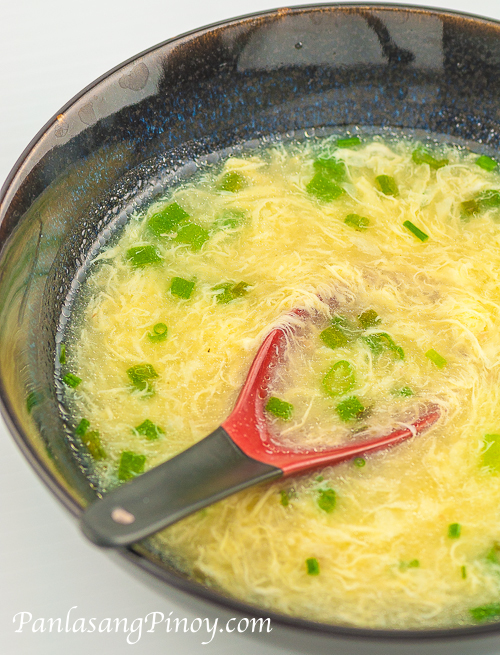 Ingredients
3 cups chicken broth
1 cup water
2 eggs, beaten
1 teaspoon grated ginger
1½ tablespoon cornstarch
2 tablespoons chopped green onion (optional)
Salt to taste
Instructions
    Dilute the cornstarch in ¼ cup water. Stir and mix well. Set aside.
    Combine chicken broth and water in a cooking pot, Bring to a boil.
    Add the grated ginger. Cook for 2 minutes.
    Pour-in the beaten egg. Stir.
    Add-in the cornstarch diluted in water. Continue to stir until the texture of the soup reaches your desired texture.
    Add salt to taste.
    Transfer to a serving bowl. Sprinkle green onions on top.
    Serve. Share and enjoy!
Misua with Egg Soup – Misua gives more texture and weight to a warm bowl of soup. (filipinorecipesite.com)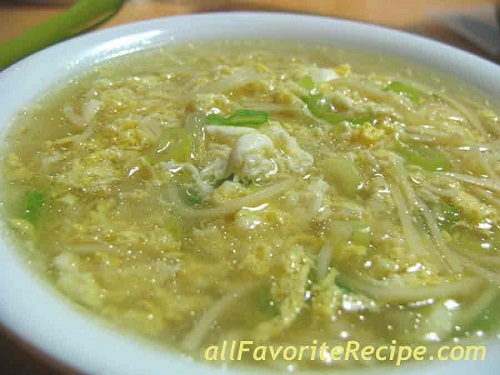 Ingredients :
1 tbsp. oil
1 clove garlic, minced
1 onion, thinly sliced
3 cups chicken stock or water
patis (fish sauce), salt and pepper, to taste
1 oz. misua (fine threadlike egg noodles)
4 eggs
green onions, for garnish
Cooking Procedures :
   In a medium saucepan, heat oil over medium heat. Sauté garlic and onion.
    Add chicken stock or water and bring to a boil.
    Stir in misua noodles and then lower the heat to simmer.
    Season with patis, salt and pepper.
    Break the eggs into the simmering stock.
    Cook until eggs are set for about 2-3 minutes.
    Remove from heat. Serve hot and garnish with green onions.
Chicken and Brown Rice Soup – An interesting recipe which can already serve as a heavy meal. (wholefoodsmarket.com)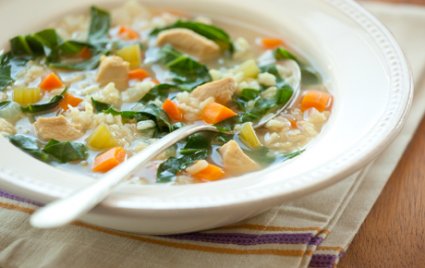 Ingredients:
8 cups low-sodium chicken broth, divided
1 medium onion, chopped
3 medium carrots, chopped
2 stalks celery, chopped
2 cups water
1 cup long-grain brown rice
1 small chicken breast, cut into 1/2-inch cubes
1 bay leaf
1 bunch kale or collard greens, thick stems removed and leaves thinly sliced (kangkong may be used*)
Method:
In a large pot over medium-high heat, bring 1/2 cup broth to a simmer. Add onion, carrots and celery and cook about 8 minutes or until onion is translucent, stirring occasionally. Add remaining 7 1/2 cups broth, water, rice, chicken and bay leaf. Bring to a boil. Reduce heat to a simmer, cover and cook about 35 minutes or until rice is tender and chicken is cooked through. Remove bay leaf and stir in kale. Continue cooking just until kale is wilted and tender, 3 to 5 minutes.
Sopa de Maiz or Corn Soup – Easy, delicious and healthy soup recipe (philippinecountry.com)
•3/4 cups Thinly sliced onions
•1/2 lb Raw shrimp, shelled and diced
•2 Cloves of garlic, minced
•2 cups bottled clam juice
•1/2 tsp. Freshly ground black pepper
•1 1/2 cups Chopped, cooked -or canned corn
•1/2 cup Shredded watercress -or spinach
•2 cups Water
Method
1.Stir fry the onions and garlic in the oil for five minutes. Add the shrimp and stir fry for two minutes.
2.Mix in the clam juice, water, pepper, and corn. Bring to a boil and cook over low heat for 10 minutes. Add the cress and cook two minutes.
3.Taste to adjust seasonings and serve.Yield: 1 Serving
Arroz Caldo – An all-time Filipino favorite (kitchenconfidante.com)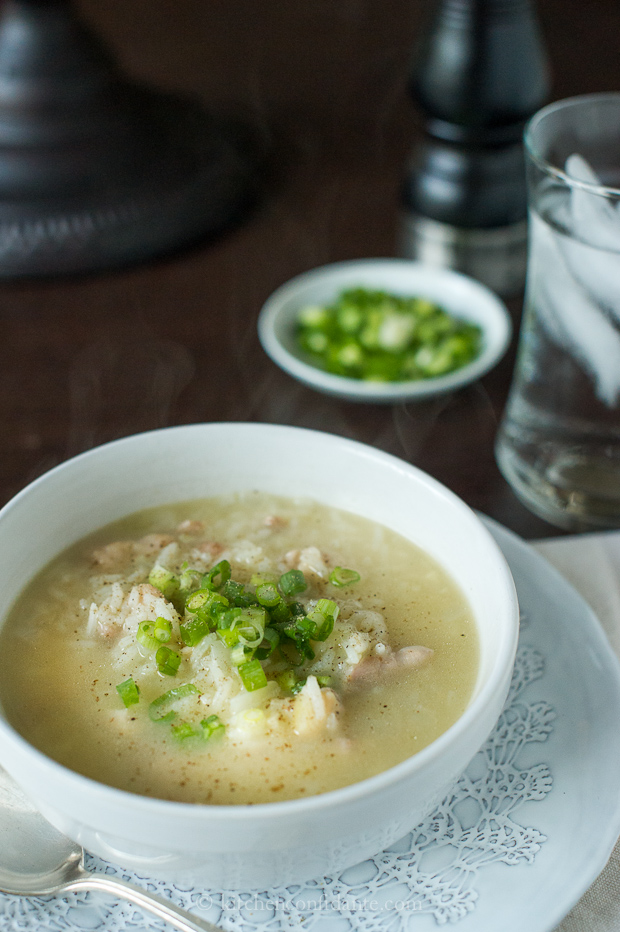 Ingredients:
1 medium onion, chopped
3 cloves garlic, minced
3 pieces of ginger, sliced in thick chunks
2 lbs chicken (a combination of boneless, skinless thighs and breast works well), cut into bite size pieces
1-2 tablespoons patis (fish sauce), to taste. If you don't have this handy, just use salt!
freshly ground black pepper, to taste
8 cups chicken stock, low sodium
1 cup jasmine rice
4 scallions, finely sliced (sibuyas tagalog*)
Directions:
In a large stock pot, saute the onion, garlic and ginger over medium heat until onion starts to become transparent, about 5-7 minutes. Add chicken, patis/fish sauce and pepper. When the chicken is cooked, add chicken stock and rice. Bring to a boil, then lower heat to simmer. Cover and continue to cook until chicken is very tender and the rice is fluffed and cooked, about 20 minutes. Stir frequently and adjust seasoning as necessary. Take out the medallions of ginger (no one really likes biting into chunks of ginger!).
Garnish with scallions and freshly ground black pepper before serving.
*additions by mommybloggersphilippines.com