Do you know how amazing it is to watch block screenings? Block screenings or film screenings are special showings of a film wherein the movies shown are of the best quality (video and audio). The event is usually made more special with accompanying food and drinks plus goodies for attendees. Block screenings have special schedules where the attendees can feel  more relaxed and be able to enjoy the movies better than regular screenings.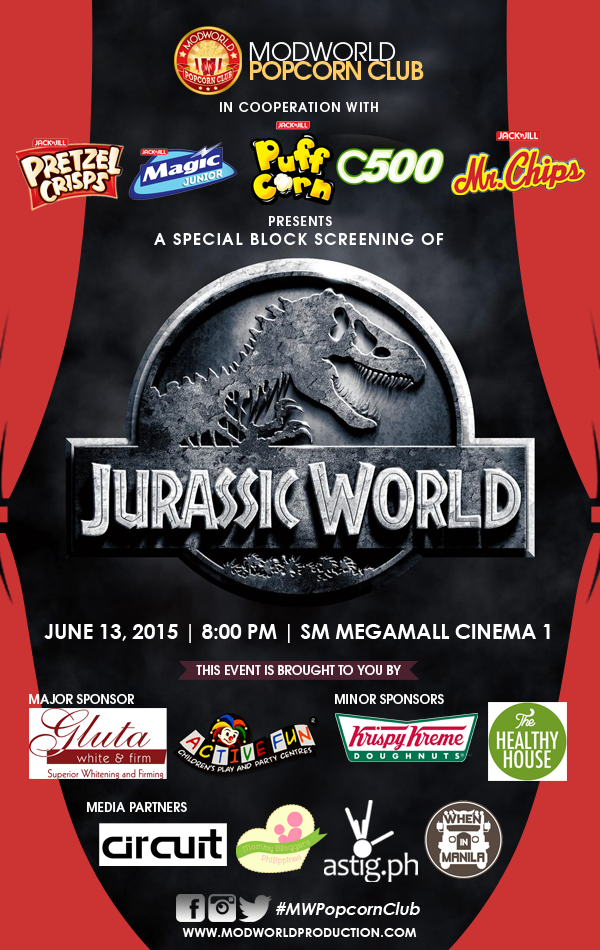 From this month of June to August, 2015, you can bring the whole family to the cinema and experience the thrill of watching your favorite movies at block screenings.
The Modworld Popcorn Club,  a team of young and passionate people, had come up with such an exciting idea of producing these 3 block screening events for everyone in the family to enjoy!
This is Modworld Popcorn Club's first offering, featuring Jurassic World (June 13), Minions (July 11), and The Fantastic Four (August 8).
For Jurassic World, the fourth installment in the Jurassic Park film series, Expect a thrilling ride as Velociraptor trainer Owen Grady (Chris Pratt) protects the park's patrons from the deadly rampage of the hybrid dinosaur known as the Indominus Rex.
See the official trailer of Jurassic World!
In July, our favorite yellow creatures, the hilarious Minions, will be back! Take the journey with Kevin, Stuart, and Bob as they search for a new master. The film features the voices of Pierre Coffin, Sandra Bullock, and Jon Hamm.
Finally in August, we can't wait to meet the Fantastic Four! Mister Fantastic, the Human Torch, Invisible Woman, and The Thing—four people whose altered physical forms grant them special abilities—work together to harness their powers and save the Earth. Fantastic Four is a reboot of the film franchise of the same name, and stars Miles Teller, Michael B. Jordan, Kate Mara, and Jamie Bell.
So who says only the celebrities and media personalities can experience block screenings? No way!
To purchase your tickets online, simply go to www.modworldproduction.com, choose your mode of payment, and accomplish the form to buy tickets. Modworld accepts cash, GCash, credit card and Paypal payments. You can also choose to have your tickets to be delivered at home. Perfect for busy mommies and daddies, saving those precious time lining up for tickets!
We all say congrats to Modworld Production Management, Inc. (MWPM) for being a pioneer in these kinds of events, bringing family members much closer to each other as we experience cinema viewing at its best.