Tiny Bud's has recently added a gentle laundry wash to their line of safe and organic baby products.  Moms know that keeping their babies adorably clean and fresh all day means they need to wash load after load of cloth diapers, baby garments & sheets.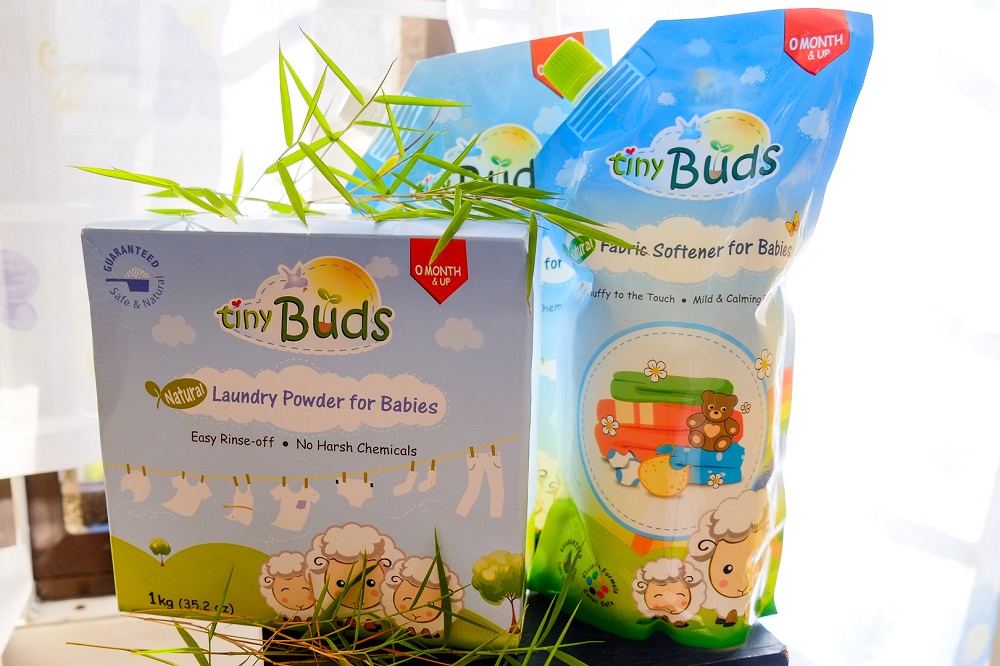 However, commercial laundry detergents are not "baby-friendly." Most contain harsh chemicals that can contribute to skin allergies and rashes. Thankfully, Tiny Buds has a safer alternative for careful mothers. The just-launched Tiny Buds Natural Laundry Washes and Fabric Softeners for Babies is a must-try for all new moms. They are made from mild and natural ingredients that will keep baby's garments clean without harming delicate skin.
Each of the Tiny Buds Natural Laundry Products is developed from a natural plant base that rinses away easily in water and leaves little to no residue on clothes. Moms are also assured that they are free from artificial coloring, strong fragrances, harsh chemical additives and fillers. Tiny Bud's natural formulation is mild enough that the laundry water will not harm plants and the environment.
In addition to being safe for little ones and friendly to nature, moms will love these Natural Laundry Washes from Tiny Buds because they keep baby's laundry touchably-soft and smelling fresh. Each one is color-safe and recommended by pediatricians for washing cloth diapers too!
The new Tiny Buds Natural Laundry Line for Babies: Natural Laundry Powder for Babies, Natural Liquid Laundry Wash for Babies, and Natural Fabric Softener for Babies — is now available in leading department stores and supermarkets nationwide.
To find out more about Tiny Buds' other natural baby care products, follow Tiny Buds on facebook.com/tinybuds and instagram @tinybudsbaby. Moms can also visit www.tinybudsbaby.com or e-mail all inquiries, and sample requests to [email protected]