The mere mention of Nutritional Immunology conjures images of eating natural plant foods, having emotional stability, proper exercise and proper rest. But, is there anything beyond these popular activities that is worth discovering?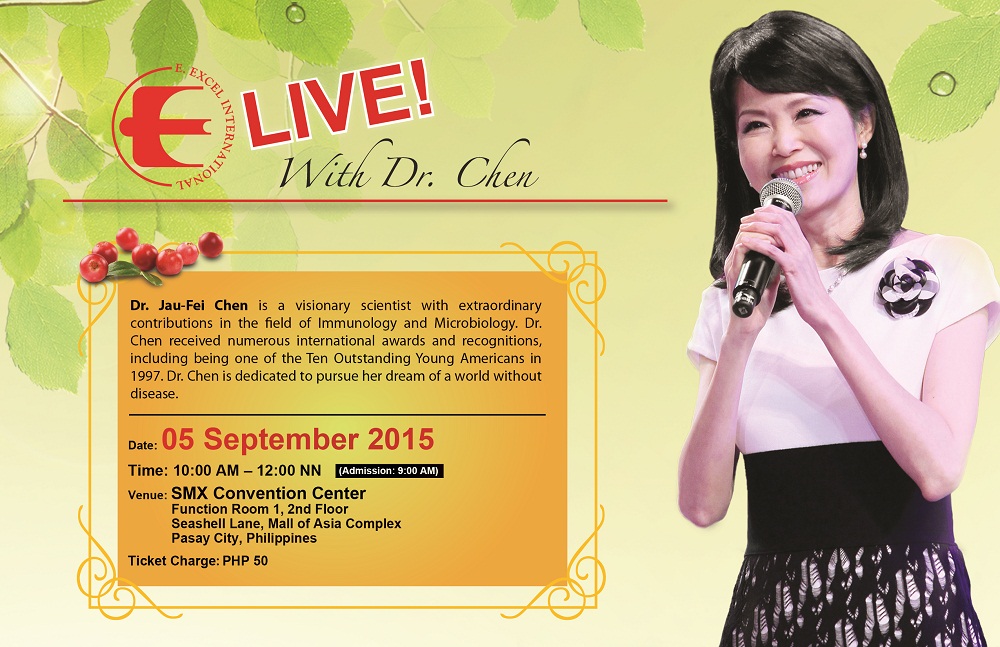 The well-renowned and multi-awarded microbiologist and Immunologist, Dr. Jau- Fei Chen is set to visit the Philippines for a ground-breaking event entitled LIVE! With Dr. Chen on September 5 at the SMX Convention Center. Dr. Jau-Fei Chen is the pioneer of the science of Nutritional Immunology, the study and research into which plant foods offer the best nutrition for the immune system. Through her extensive research and studies on preventive health care, Dr. Chen introduced wholesome food products to provide the necessary nutrients for the body's ultimate defense against sickness.
This event will highlight the importance of taking proper nutrition to nourish the immune system. Dr. Chen will also share her knowledge and expertise on how to defend the immune system from deadly illnesses such as cancer, diabetes and other chronic diseases.
A strong immune system offers protection to the human body against invaders and prevents cell mutations that could lead to cancer. A weak immune system makes the human body more vulnerable to disease. When the immune system is confused, it immediately triggers allergies or autoimmune diseases.
The LIVE! With Dr. Chen event will certainly play a vital role in teaching people how to live longer by learning more about life and health.  In doing so, they can spend more time with loved ones. This event is open to the public with tickets available for only Php 50.00. To register, please contact Ms. Maricel Ansay at 0927-7409661 or visit our website at www.eexcel.com.ph for a complete list of E. Excel branches nationwide.