Being one of the judges in the recently concluded Ajinomoto Umami Culinary Challenge (UCC) made me realize three things :
1. We have a huge number of culinary experts who are clearly passionate in what they do. It made me proud so proud in thinking about the future of our food industry with all these culinary talents waiting in the background.
2. Our Filipino dishes, delicious as they are now, can be made even more exciting, more eye-filling, and healthier. These can all be done by using alternative ingredients, other types of meat and vegetables (I've seen several kinds of sea food and vegetables which I wasn't aware of before that they have even existed), and of course by using Ajinomoto to bring out their best flavors.
3. Culinary challenges like the the Ajinomoto Umami Culinary Challenge are the best ways to encourage our students to step-out, think out of the box, and learn from the best cooking professionals out there. We should be thankful for the companies such as Ajinomoto for giving out these kinds of opportunities for our youth to develop their culinary skills and give the consumers better, tastier and healthier food choices.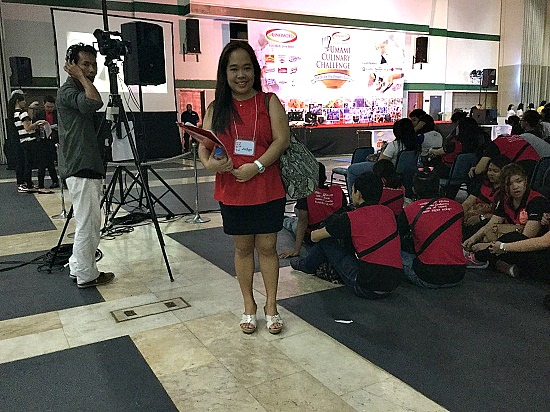 — Lanie Lluch ( Judge – My Umami Coach and I (Food Plating Contest)
The Ajinomoto Umami Culinary Challenge (UCC) was attended by thousands of HRM and Nutrition students last January 30, 2015 at the Philippine Trade Training Center. Over 300 students-competitors dished out hundreds of culinary masterpieces with each one striving to depict the importance of "umami deliciousness" in healthy cooking.
The panel of judges is a great mix of technical experts from the culinary and nutrition fields like Celebrity Chefs Gene Gonzales, Sau del Rosario, Eugene Raymundo, Philippine Association of Nutrition (PAN) Board Member Dr. Imelda Agdeppa, Nutritionist-Dietician Association of the Philippines (NDAP) President Dr. Adela Jamorabo-Ruiz and Food and Nutrition Research Institute Scientist Maria Jovina Sandoval to name a few. Food entries that landed the top spots showcased the creative use of fresh ingredients to make nutritious and delicious meals.
The UCC Experience
Year after year, Ajinomoto thoughtfully put together a great program to tickle the minds and taste buds of culinarians and food lovers. The whole UCC experience can be described as a full-day event punctuated with fun and exciting learning activities. Aside from the culinary competitions, Umami Coaches from 23 schools and their students presented actual executions of the My Eat Well, Live Well.® Plate to promote the proper balance of healthy carbohydrates, good quality protein and vibrant-colored vegetables and fresh fruits in a food plating contest. 11 schools teams also prepared healthy beverage concoctions to the tune of danceable mash ups songs during the Aminomazing Showdown, which features the beneficial amino acid content of the new "amino Fres-C" Instant Juice Drink Mix.
Dr. Kumiko Ninomiya, Director of Umami Information Center in Japan and Dr. Celeste Tanchoco, NDAP Board Member were invited to explain the science behind umami and the amino acid – glutamate. These food science presentations proved to be helpful in understanding the role of umami in food and nutrition and its relevance to the culinary professionals around the world.
Kathryn Bernardo, Teen Queen and AJI-NO-MOTO® Brand Endorser, personally congratulated the event participants for their drive and passion in trying to fulfill their dreams of becoming future chefs. Kathryn shared her fascination in each team's potential to make it big in the culinary industry.
UCC Winners
In the end, the following school teams were named and given cash prizes, medals and other gifts from event partners for winning the competition categories:
NATIONAL COOKING SHOWDOWN

BEST FILIPINO UMAMI DISH

MY OWN UMAMI CREATION

Hercor College (Visayas)

Hercor College (Visayas)
 UMAMI BOWL CHAMPION (LUZON)
Highest Accumulated Score
National College of Business and Arts Fairview
 CULINARY COMPETITION CATEGORIES (LUZON)
RANK

BEST FILIPINO UMAMI DISH

MY OWN UMAMI CREATION

2016 UMAMI MASTER LUZON

1st

Colegio de San Lorenzo

Saint Michael's College of Laguna

St. Dominic College of Asia

2nd

Miriam College

National College Of Business and Arts Fairview

National College Of Business and Arts Fairview

3rd

Asian College

Olivarez College

University of Santo Tomas
NON-CULINARY COMPETITION CATEGORIES (LUZON, TOP 3)

AMINOMAZING SHOWDOWN
(BEVERAGE CONCOCTION CONTEST )

MY UMAMI COACH AND I
(FOOD-STYLING CONTEST)

Manila Tytana

University of Santo Tomas

STI Alabang

Manila Tytana

University of Santo Tomas

Southville International School