We are all aware how climate change has affected our families not only when the season suddenly changes from sunny to stormy or stormy to sunny. The last typhoon left most families grieving in Catbalogan. It's easy to lose hope when we think that these are all part of climate change we can't control. Actually, we shouldn't lose hope because there's still time to change and be part of activities which will help us turn nature into our own protector.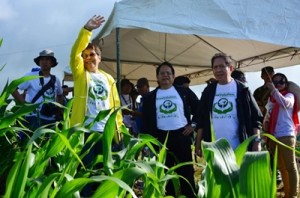 Tang Sweet Orange has recently partnered with the Mindanao Development Authority (MinDA) for the "TreeVolution: Greening MindaNOW movement" which led the successful attempt in setting a new world record for the most number of trees simultaneously planted in multiple locations. A total of 220 volunteers planted 4,000,081 seedlings in 253 separate planting sites, eclipsing the 1,945,525 trees record set by India.
"This movement is not only for Mindanaoans. It's a call to action for all Filipinos to conserve and protect our environment. Climate change is one of the biggest and most urgent challenges the world is facing right now, and it's time that we do our part," said event organizer and Mindanao Development Authority Chairperson Luwalhati Antonino.
In photo are MinDA Chairperson Luwalhati Antonio (PCA Administrator Romulo Arancon and DENR Usec, Demetrio Ignacio.