Celebrating this year's theme "It's More JOLLY in the Philippines," the fourth edition of JU once more ignites palates and young minds with JOLLY Congress, an interactive learning platform that gathers some of the country's top industry practitioners and leaders in various fields who will share their inspirational experiences and expertise. For its fourth run, this year's Congress will feature key speakers such as Leo de Leon of Allegro Beverage, Karla Reyes of La Petite Fromagerie, Liza Morales of CCA Manila, Kian Kazemi of Persian Grill, Marilyn Perion of UCPB, Rebecca Lee of wheninmanila.com, Ms. Earth 2015 Angelia Ong and Bryan Kong of Crazy Katsu.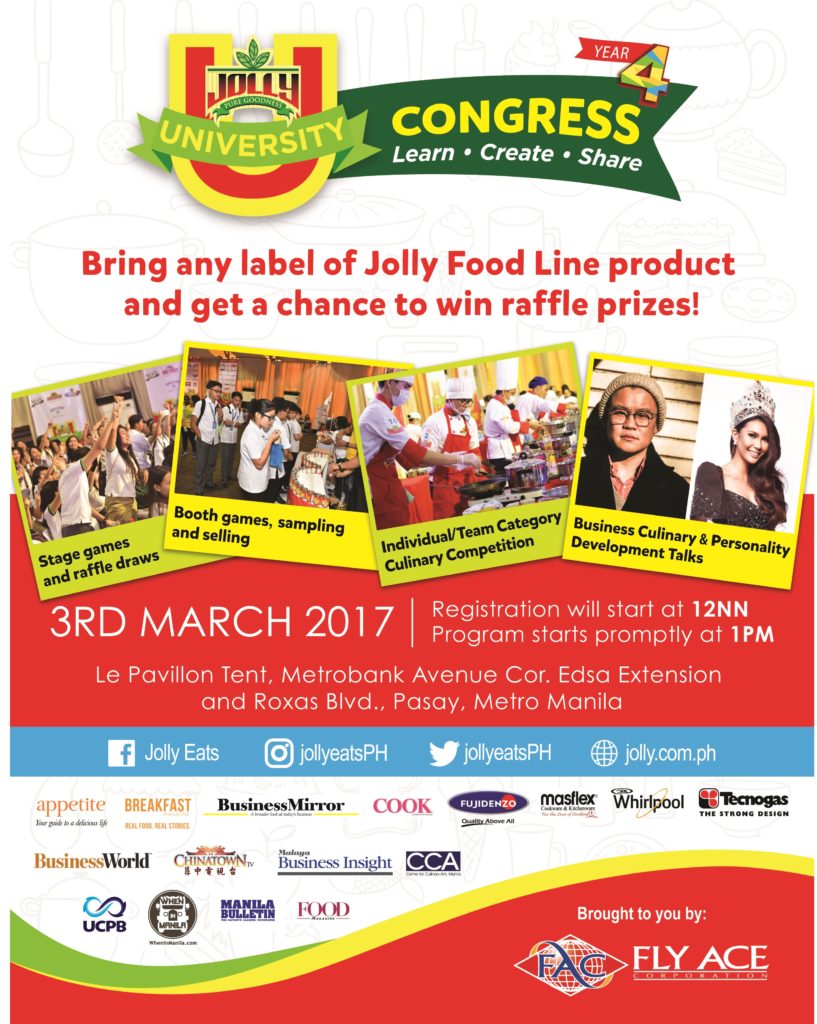 With a primary goal to build better future opportunities for today's youth through business leadership and competency training, the country's highly successful campus-wide culinary search  — the JOLLY University (JU) Year 4 — returns with a full line of fun enriching activities this March 3, 2017 at the Le Pavilion Tent Metrobank Avenue cor. EDSA Extension and Roxas Boulevard in Pasay City.
Jolly University Year 4 delivers yet another impactful fitting finale as the much-awaited Grand Cook-Off is also happening at the congress. 31 participating universities will undergo an intensive training from the JU Boot Camp that will determine the best and finest culinarians.
For this year, the culinary competitions will feature four categories:   Individual Category (featuring Luzon Cuisines made easy, healthy and baon ready); Team Main Dish Category (Visayas Cuisines Made Easy, Healthy and Jolly); Team Pasta Category (Mindanao Cuisines made Pastariffic) and Team Mocktail Category (Capture the Jolly Vibe of the Philippines in a Sip). Vying for the championship titles are the student representatives from Metro Manila, South and Central Luzon.
On top of the prestige and pride of becoming JU student ambassadors, this year's batch of grand winners will be awarded Php50,000 worth of cash and prizes, trophies, culinary training workshop under CCA Manila and an internship program under Fly Ace Corporation where they will receive comprehensive, job-ready skills development training only from the industry's best practitioners. Apart from gaining new knowledge from the youth seminars, JOLLY Congress guests will also be entertained by the many stage games, exciting booth activities, as well as, food and product samplings.
A campaign spearheaded in 2013 by JOLLY Food Line, the No. 1 canned vegetable brand in the country, JOLLY University is a campus-wide culinary competition that aims to enhance the competency of students in becoming the next generation food industry champions. The program also seeks to harness students' skills and creativity in developing food concepts that will cater to consumers and the food industry. To date, JU has evolved into one of the biggest and highly successful culinary search events and pivotal learning platform for the Filipino youth.
To join the activities of the Jolly University Congress on March 3, simply bring any label from the wide array of Jolly Food Line Products and also get a chance to win exciting raffle prizes. For more updates on JOLLY University, visit jolly.com.ph. Also like its official Facebook fanpage (Jolly Eats) or follow via Twitter and Instagram (@jollyeatsph).
The JOLLY University Year 4 Congress is made possible with the support of event sponsors CCA Manila, Fujidenzo, Masflex, Whirlpool, Technogas, UCPB, and media partners Appetite Magazine, Breakfast Magazine, Food Magazine, Chinatown TV, Malaya Business Insight, Manila Bulletin and wheninmanila.com.