Your child's school days can still be extended for them to have fun in their favorite playground in ACTIVE FUN and learn a little bit more in areas which are not usually being brought up in school. What's even more fun is they can get to enroll with their siblings and friends and meet new friends in these workshops!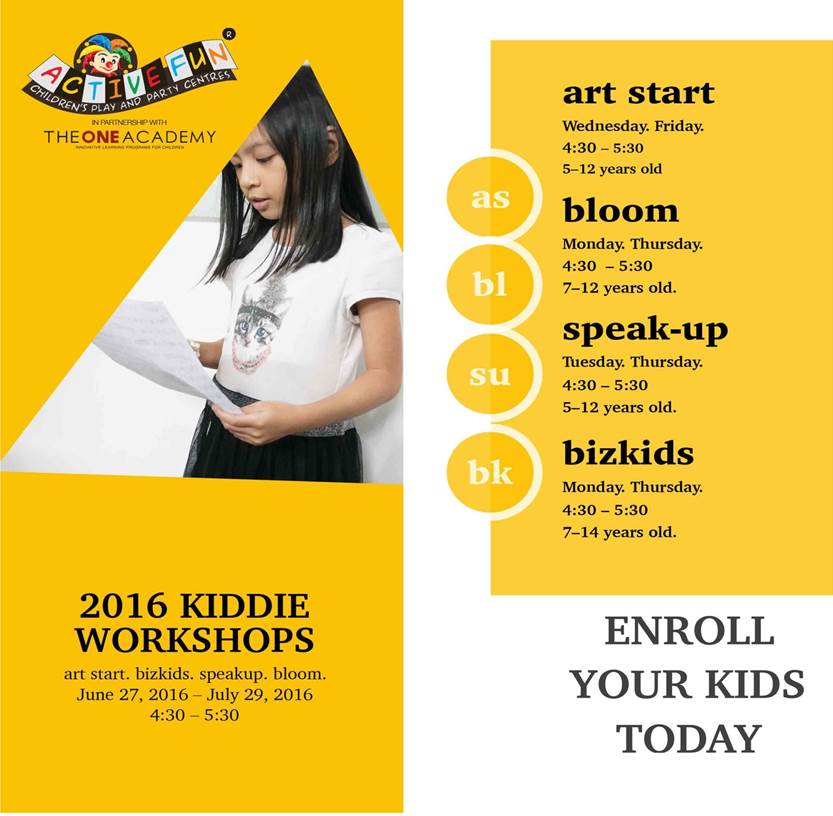 Active Fun Kiddie Workshops
In partnership with The One Academy, Activefun Bonifacio High Street is offering Public Speaking, Entrepreneurship, Personality Development and Arts and Crafts Workshops that comes with FREE Play!
Have fun by choosing to enroll your kids with one of these workshops of try all of them. (Group Enrollment Perk : Enroll in threes and enjoy an unlimited free play card (one time use only) at Active Fun *per student)
Art Start
This is an art program which was designed by Brenda Ellis who we found out is the author of Artistic Pursuits. In this program, the students learn the elements of drawing and art concepts in appropriate levels and explore. They will also learn about the stories of Art Masters while they work on mixed media projects. This is a fun way to start or hone your child's interest in art and they can even use their new found skills when they do their projects in school.
Biz Kids
You may think talking about business ideas may be too much for little kids but actually, they can already be taught on having the entrepreneurial spirit  through an appropriate curriculum. ATB (All Terrain Brain), an award winning curriculum by Ewin Marion Kauffman Foundation of Kansas City can help your kids develop critical and creative thinking which will be their foundation for potential business goals in the future. Who knows, your child will be the next business moguls in the Philippines?
Speak-up
Teaching the kids in their young ages to speak in front of people will not only boost their confidence but will immensely help them to be future communicators and leaders. We think most parents will love to see their kids thriving in the future without the fear of expressing themselves. With Active Fun's speech training, little kids will have fun communicating and speaking out in front of their peers and even adults.
Bloom
Do you feel your kids are sometimes shy or timid? In ActiveFun's BLOOM Personality Development Program, they will be encouraged to shine and not feel awkward when people look at them. This program is all about developing inner personality and self confidence no matter where your kids are : at home, in school, online or anywhere they will be.
Bloom Modeling on the other hand will teach your kids to be models of not only beauty and fashion, but finesse and goodness. They will be taught to be kids who will be looked up to by other children because of their skills and personality.
Excited already? We are too! As soon as we've learned about these programs by ActiveFun, plus the opportunity for 1 hour play per session, we got excited for our little kids to be on board.
If you have any inquiries, you may call Active Fun in these numbers: 869-9509 / 869-0800 or 0905-5769397.
You can also check Active Fun on Facebook or visit www.activefun.ph
Enjoy!