Both my husband and I are coffee and tea drinkers.  We usually have coffee in the morning and sleepy tea before bedtime.  We microwave our water every time we prepare ourselves our favorite hot beverages.  Recently, I got a Zojirushi handy pot and preparing our coffee and tea have been easy and convenient.  I will only boil water once a day, pour it in my Zojirushi handy pot and it will keep our hot water hot for 24 hours, saving us  a lot of time  preparing our drinks.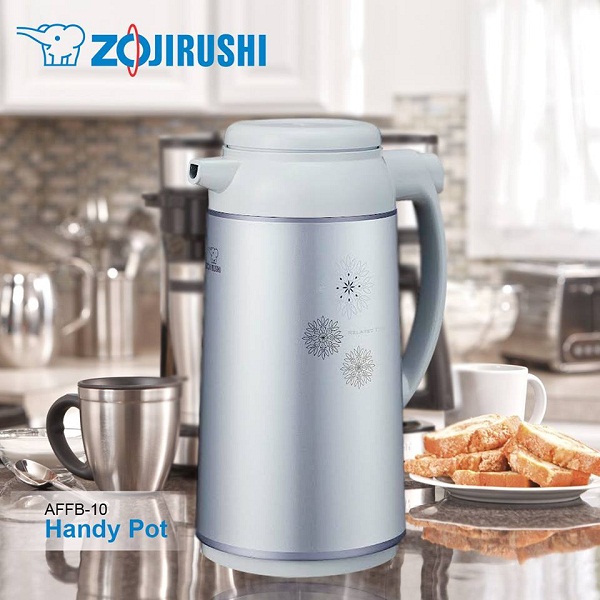 I love its classic and simple design. It has an "open" and "closed" indicator on lid, doing away with the need to partly unscrew the lid for pouring, like some old school handy pots that are still available in the market today.  I also appreciate the thumb-activated pour button located on its handle. With it, you can pour coffee with a minimum of mess or spills.
Here's the complete specifications:
Stainless Vacuum – Handy Pot
l  One-touch pour
l  Swivel base on AFFB-19S model
l  Excellent *heat retention  (124°F @ 24 hrs)
l  Sizes: 1.0L, 1.3L, 1.9L
** Double-wall vacuum glass liner
*Rating is based on water at a starting temperature of 203°F (95°C) at a room temperature of 68°F (20°C)
**All Zojirushi vacuum glass liners are all made in Japan. The same cannot be said for competing brands, which have Made in Japan outer bodies but Made in India vacuum glass liners.
Zojirushi is a Japanese brand.  It was introduced in the Philippine market in November of 2009, a partnership between Mitsui and Zojirushi. Filipino consumers are expected to benefit from this partnership as they now have a new brand that dares to challenge the monopoly of an existing brand. As of May 2013, Zojirushi products are already available at different SM group branches. Further expansion activities will be implemented by early next year.
Drawing on the initial success achieved in the past three years, Mitsui and Zojirushi vow to foster a partnership that is careful and considerate as to how both companies will treat people and the environment. Likewise, this partnership will actively introduce new products and services that give people a sense of confidence and satisfaction.
As reviewed by JoyGurtiza.com
Win a Zojirushi Handy Pot! See complete mechanics below!
1.Tell us about your favorite drink in the morning!
2. Comment your answer with your complete name and email address.
3. Share this contest to your friends in FB
4. Make sure to follow Zojirushi in FB and Mommy Bloggers Philippines to be updated of the results of the promo.
And the winner of the promo is :