Did you know that reading and knowing others' wishes is not only fun but enlightening too? There are so many things that our hearts desire but sometimes we tend to forget the most meaningful ones, or sometimes, the simplest but the best things which will truly make us happy.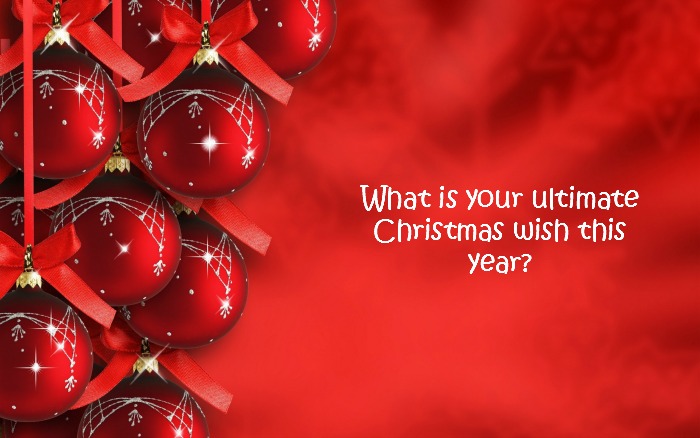 Here are some of the mommy bloggers' loving, fun and witty Christmas wishes. Check them out and find out how most of us have something in common. Better yet, share us your wishes too!
My ultimate wish is good health as always for myself, everyone in my family and peers including my co-bloggers. As for the world, I wish that all these war happening around us will stop or if not, that the children in between them most specially will be protected. — tweenselmom.com
My ultimate wish this Christmas is for me to always be thankful and positive, for my family to always be healthy, and for everyone else to keep a child-like view of the world, where everything is a cause for wonder. mum-writes.com
I wish for the feeling of contentment for everyone.
I also wish to be able to manage my time better so I can do as much as I need and want to do, and get to spend quality time with my family, self, friends and others. www.milastolemyheart.com
I wish for a happy and strong bonded family for everyone.
May everyone always be grateful and learn to share blessings, no matter how small with those who needed most. – www.lifeofque.com
My ultimate wish(es) is good health, happy life, rich mind, and bountiful resources. May the Lord grant us everything not only because we want it, but also because we need it and it's good for us. warriormomandcraniokid.com
I wish for an improved quality of life for all Filipino families. On a personal note, I want a spanking new DSLR or the best part, furnish our new home!! www.moomymusings.com
I wish for a new MacBook! Todo na ito! http://xoxomrsmartinez.com
Wish for a new fone or oven and world peace if mahirap ang world peace kahit sa philippines lang muna lord please www.lifeofaci.com
My ultimate wish this Christmas is a fruitful life for my kids, contentment for my husband, less heartaches for The Philippines – in terms of typhoons, corrupt politicians and disease. And to Santa… Seriously a nice little laptop will do hehe. mamaneesnest.com
I wish for more breakthroughs in life, great health for my family and a combination of drive and discipline para pumayat na ko next year hahaha. www.mommanila.com
I do wish for good health to my family and friends. Oh, and resources to finally get that dream house too! http://nicolepaler.wordpress.com
My ultimate wish is to have a make over www.jocrisworld.blogspot.com
I said I don't need another bag but I think I really do, so Santa, hear me out! That MK Cynthia Logo Satchel, huwag mo ng ibalot! –Pehpot.com
My wish is for me and my family to be healthier (physically and spiritually) and more financial and spiritual breakthroughs. www.pinionsandplumageoflove.blogspot.com
Sana mas maging PWD & Senior Citizen-friendly ang Pilipinas. On a personal note, I am wishing good health & financial blessings for my family + a laptop/netbook.–www.purpleplumfairy.com
My ultimate wish good health and always be with my kids. I hope I lost weight and be sexy again. He he he www.healthfrontiersandmore.blogspot.com
My ultimate wish is for everyone to be grateful and be a blessing to everyone's life. That we may find contentment and happiness in everything we experience no matter how big or small it is. – www.esupermommy.com
My ultimate Christmas Wish are good health, financial freedom and a loving and happy family! For myself? I want a new camera!! Hehe. – http://itsmommywow.blogspot.com
My ultimate wish is for good health for me and my family, most especially the little one growing inside me; a safe delivery,too. To Santa, I'd like to have a new camera, pretty please? www.petitemomma.com
My ultimate wish as a mom is to be a WAHM next year, good health for my family and blessings to all of us! www.lallysreflections.com
My ultimate wish this Christmas is everyone's enjoyment of all blessings from the Lord: love, joy, peace, hope and all His provisions. http://cymplified.com
My ultimate wish is a better government and greener environment for future generations. I know it's wishful thinking but I'd like to hope that there will be a better world for my kids whether I'm here or not http://liquesantics.blogspot.com/
My Ultimate Wish is good health for everyone, I could manage time better, my business page My Pink Dragon to be up and running smoothly next year and a new dslr cam for future events. – www.thekikaydragon.blogspot.com
My ultimate wish is for my family to be always safe and healthy. And of course, a two week beach vacation! http://theflowerduet.blogspot.com/
My ultimate wish is for all moms out there to be fun-loving, smart and Godly. May they use their talents in a way people will be blessed! And if it's not too much to ask, I wish myself and my family would travel to US and celebrate Christmas and New Year with my dear parents. http://nanayspecialists.blogspot.ae
I wish to see trolls, meet Groot in person and live in Narnia for a couple of days. I wish for each and everyone of us to reawaken our child-side even for this Christmas season only. To chill a bit. http://joygurtiza.com
My ultimate wish for Christmas is for everyone to be healthy, safe, kind,peaceful, more blessed, and free from conflicts of all sorts. – www.allaroundpinaymama.com
I wish for a really, really BIG chopping board!!! www.vanillahousewife.com
My ultimate wish for Christmas is for everyone to have strong fighting hearts, minds and spirit for next year's life challenges. I also wish to blog more bravely and intentionally this coming year. Happy holidays!http://nanaystrip.wordpress.com
My ultimate wish for Christmas is more TIME to spend with my boys. http://mrsmelmedrano.wordpress.com/
I wish for good health and happiness for my family and friends. I also wish for blog and business growth come 2015. http://mamemimommy.com
How about you? What is your ultimate Christmas wish for yourself, your family and others?